BBVA signs first-ever sustainable project finance loan in Spain's hospitality industry
Beachbox Hotelco has become the first company in Spain's hospitality sector to sign a sustainable project finance loan to finance the construction of the Six Senses Ibiza hotel. BBVA served as sustainable coordinator in the €55 million syndicated loan for the financing of the project. BBVA and Caixabank will each contribute 50 percent of the funds.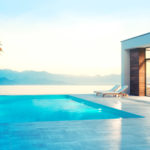 Independent advisory firm Arup issued the favorable assessment report after analyzing the company's environmental, social & governance (ESG) indicators, and verifying the project's compliance with the Green Loan Principles. This document certifies the vehicle as a green loan, in this case under the 'project finance' modality.
The project envisages the complete renovation of an already existing structure, hotel Bahía Vista, in Portinatx (San Juan de Labritja, Ibiza), and aims to tap into new market segments, as well as to boost the quality, offering, security, accessibility and environmental sustainability of the complex. The project will also be certified as sustainable by BREEAM, a leading environmental certification organization.
Nacho Muelas, project manager for Beachbox Hotelco, said: "The Six Senses Ibiza project is strongly committed to sustainability. Both the construction, carried out in compliance with BREEAM's construction sustainability guidelines, and its conformance to Six Senses' own and strict sustainability standards have provided the foundations of the hotel's design. This environmental commitment is now underpinned with this green credit facility, which is perfectly aligned with and further enhances Six Senses Ibiza's sustainability."
Borja Buades Fuster, who leads the team responsible for the financing of commercial real estate and hospitality projects within BBVA's Structure Finance department, said: "We're pleased to support Beachbox Hotelco and Six Senses' commitment to sustainable finance. BBVA has a team specializing in hospitality financing and the bank is a leading player in this segment in Spain."
"BBVA has a team specializing in hospitality financing and the bank is a leading player in this segment in Spain"
BBVA, a leader in sustainable finance
As a sign of its firm commitment to the fight against climate change, BBVA approved its Pledge 2025 in 2018 through which the bank will mobilize €100 billion from now until 2025 in green financing, sustainable infrastructure, social entrepreneurship and financial inclusion. The bank has the capacity, knowledge and experience to provide its clients superior advisory services for sustainable financial solutions and is playing a key role in developing this market.
BBVA has been a pioneer and the dominant player in the sustainable loan business. Today it is one of the most active organizations on the world stage in this field and the leader in Spain. In 2018, BBVA has led 17 sustainable finance deals in Europe and the Americas for customers in various sectors and has acted as sustainability coordinator or agent in more transactions than any other institution. As of the end of October 2019, it has led 20 more transactions.
About Six Senses
From its beginnings in 1995, Six Senses quickly became recognized as the hospitality industry's pioneer of sustainable practices, demonstrating that responsibility can be successfully wedded to uncompromised high-end facilities. Six Senses is part of IHG Group, which is one of the world's largest hotel groups, with a growing number of luxury brands that includes InterContinental Hotels & Resorts, Regent Hotels & Resorts, Indigo and Kimpton Hotels & Restaurants.
Six Senses is relentlessly promoting new initiatives and procedures to minimize its environmental impact. Today, Six Senses remains at the leading edge of sustainable tourism best practices. All the group's hotels and resorts contribute to Hotel Sustainability Benchmarking program that Cornell University launched five years ago, "which has become the most comprehensive and up-to-date benchmark dataset on power and water consumption, and greenhouse gas emissions."
Six Senses' environmental commitment addresses both hotel operation and guest travel related carbon emissions and encourages guests to share the responsibility of offsetting this carbon footprint. Six Senses has rolled out programs to promote energy savings, reuse water in secondary applications and recycling waste byproducts generated at the stations.