BBVA Spain gifts 50 euros to customers who invite friends and family to bring their paychecks to the bank
BBVA has bolstered its 'Plan Invita a un Amigo' ('Invite a Friend Plan') with a new promotion that rewards the Bank's most loyal customers in Spain. This time, customers of the bank who persuade a friend or family member to bring their paycheck are entitled to a gift of 50 euros per person.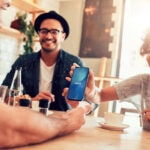 The new promotion supplements the 'Invite a Friend Plan' referral program launched in February 2021. Since launch to Friday, May 21, the promotion attracted 5,000 new customers, thanks to the 9,000 sponsors who invited their relatives to BBVA.
With this new promotion, customers (sponsors) with a salary who invite their friends or relatives (sponsored persons) to sign up for the Cuenta Nómina Va Contigo and deposit a paycheck equal to or greater than 800 euros will receive a reward of 50 euros for each friend or relative. The maximum number of sponsored persons allowed is ten, so the BBVA customer can get a maximum reward of 500 euros. Each sponsored person is given 100 euros gross.
All BBVA customers who hold a bank account and deposit their paycheck for an amount equal to or greater than 800 euros have the promotion available in their private area, in the 'Invite a friend' section, both on the website and over the app. A sponsor joining the promotion uses an individual code to share with friends and family (sponsored persons) for the account opening process. When the sponsored person has their paycheck paid directly into their account and has joined the promotion, both sponsored person and sponsor get their reward.
As a novelty, the promotion will be available over all BBVA channels, both digital and in branch offices, so that sponsored persons can choose to become customers by using the most convenient channel for them.
Advantages of bringing your paycheck to BBVA
Customers who open a Va Contigo account and have their paycheck paid directly into their account will enjoy special terms and will have a personal account manager available for any queries they may have, without having to visit a branch. The service will be available 24 hours a day on the mobile app or the BBVA website to resolve any queries related to paychecks or any financial transaction customers wish to make. Customers will also be able to make debit cash withdrawals at more than 6,000 ATMs throughout Spain and online transfers within the European Economic Area (EEA).
Para facilitar la domiciliación de la nómina, BBVA pone a disposición del cliente el Servicio Cambio de Banco, el cual se encarga de llevar a cabo todo el proceso de forma cómoda, rápida y sin ningún coste.