BBVA supports working women in terms of employment, entrepreneurship and work/life balance
BBVA celebrates International Working Women's Day with further progress as regards work/life balance, entrepreneurship and professional promotion. This is the right time to look back on one year of initiatives that promote female talent and try to mitigate the social injustices that affect women.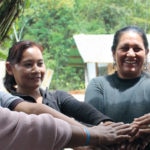 In Latin America, women are solely responsible for the home and for looking after the family. This results in unpaid work, lack of employment opportunities, higher unemployment rates and more difficulties accessing financial services when they decide to set up their own business. In the case of poor women, this is even more dramatic since social inequality stops them from leaving their financial status behind.
Support to rural entrepreneurs
The UN Sustainable Development Goals are primarily focused on empowering women but this cannot be achieved without the support of organizations and companies. The BBVA Microfinance Foundation supports female rural entrepreneurs in Latin America since 2007, through a group of microfinance institutions. Women make up 60% of the customers who receive credit and 27% of these women live in rural areas. With the support of both the foundation and its member entities, these land workers are able to save, invest, look after their families and plan for their future.
The challenges of professional women
Working women face other challenges in connection with career progression, equal salaries and work/life balance. For this reason, BBVA has supported and raised the profile of women in the business setting with various programs and events where women play the leading role.
One such example is the Encuentro Promociona. Three hundred female executives met in the BBVA City for an event chaired by Her Majesty Queen Letizia. The aim was to raise awareness to issues that affect women when they try to reach senior management and board positions. "In a disruptive environment like the one in which we are living in today, companies must promote the presence of women in organizations because their contribution strengthens them," stated Francisco González during the opening ceremony.
Since 2015, BBVA Chile has been supporting female entrepreneurs with the program Camino al Éxito (Road to Success), which is fully funded so the participants do not have to pay for their training themselves. Mujeres Empresarias helps to organize this program. Both organizations have also come together to present the BBVA Female Entrepreneur Award, a distinction that highlights the trajectory and the legacy of top women entrepreneurs in Chile.
As for work/life balance –another major ongoing project in the path toward equality– Fundación Másfamilia has honored BBVA for its commitment to the work/life balance of their employees and for its efforts in terms of equality and diversity.