BBVA was recognized in six different categories in the 2019 edition of the Euromoney Awards for Excellence. The bank won the award for the 'World's best bank for financial inclusion,' 'Western Europe's best digital bank,' 'Latin America's best bank for sustainable finance,' 'Latin America's best bank for transaction services,' 'Mexico's best investment bank,' and 'Best bank for corporate responsibility' in Central and Eastern Europe.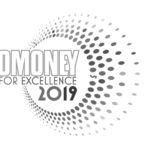 At an award ceremony in London, Antoni Ballabriga, the Global Head of Responsible Business at BBVA, received the award presented to BBVA for the 'World's best bank for financial inclusion.' "At BBVA, we understand that greater financial inclusion has a positive impact on countries' well-being and sustained and sustainable economic growth," he said. "This conviction led to the development of a business model that makes it possible to serve the lower income population adequately. The use of new digital technologies make this possible, as well as the increased number of products and services offered through branchless platforms and low-cost innovative financial solutions specifically designed for this segment."  In 2018, BBVA served 8.4 million low income customers.
Multiple BBVA initiatives in various locations across its global footprint are recognized by Euromoney with this award. Some of the most notable include:
In Mexico, the short-term micro-loans known as 'Adelanto de sueldo' (payday advances) reached an average of 10,000 transactions per month last year, while the life insurance offered at ATMs reached a total of 250,000 policies sold during the same period.
In Colombia the 'Cuenta en línea' (Online account) was launched in 2018, with a more straightforward sign-up process. The physical network also expanded to 8,000 new locations to help low income customers in more remote areas with their transaction needs.
In Peru, the electronic wallet features were expanded, allowing customers to use their smartphones to withdraw cash from participating banking correspondents and ATMs.
As part of its community reinvestment program, BBVA offers in the U.S. a wide range of financial products and services, especially designed for the low income communities where it operates. In 2018, €391 million in mortgages were granted under this program.
Furthermore, BBVA stands out for its work through the BBVA Microfinance Foundation. Created by BBVA in 2007, this institution promotes the development of vulnerable entrepreneurs through financial inclusion in five Latin American countries. In the twelve years since it was established, its group of franchises has lent more than $12 billion to over five million people, mostly women. The foundation measures its social impact in order to enhance its value proposition and advance the achievement of its purpose.  According to its recently published 2018 report, 34 percent of the entrepreneurs got out of poverty after two years working with the foundation.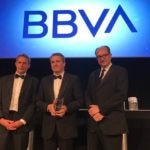 BBVA was recognized in five different categories in the 2019 edition of the Euromoney Awards for Excellence.
Western Europe's best digital bank
Euromoney also selected BBVA as 'Western Europe's best digital bank' based on its wide range of digital products for both companies and individuals, as well as the transformation process the bank is carrying out on a global level, which includes the development of global solutions adapted to the local context.
Latin America's best bank for sustainable finance
For the first time, BBVA was also crowned 'Latin America's best bank for sustainable finance' thanks to its promotion of environmental, social, and governance (ESG) initiatives and the impact-investing industry through the development of financing products like sustainable bonds and loans.
In February 2018, BBVA announced its climate change and sustainable development strategy in its 'Pledge 2025' where it has committed to raise €100 billion in green finance, sustainable infrastructure projects, social entrepreneurship, and financial inclusion. The bank also committed to work to mitigate its own environmental and social risks and minimize potential negative impacts, as well as to engage all stakeholders to increase the financial sector's contribution to sustainable development. As an example of this, in September 2018, BBVA announced the successful placement of its first Green Bond in Mexico for an amount of MXN 3.5 billion. This placement was a milestone in the history of banking in Mexico and is of great importance as it will significantly support the growth and development of the green bond market in the country.
BBVA secured €11.8 billion in sustainable financing in 2018, the first year of Pledge 2025. This figure includes deals involving green financing (69 percent of the total), sustainable infrastructure and agribusiness (13 percent), and social entrepreneurship and financial inclusion (18 percent).
Latin America's best bank for transaction services
For the third year in a row, Euromoney also named BBVA 'Latin America's best bank for transaction services' - further recognition of BBVA's efforts to offer its transaction banking customers the region's best solutions in trade finance, cash management and supply chain finance.
In a key, increasingly demanding market for the Group, BBVA works every day to expand the local transaction products and services it offers, and build customized solutions for multinationals with global needs. All this underpinned by robust technological infrastructure, a local-global coverage model that ensures clients have the best experience.
Mexico's best investment bank
In addition, BBVA was recognized as 'Mexico's best investment bank' for the third time. Euromoney values the Mexican franchise's leadership in all areas of wholesale banking: in Mergers & Acquisitions, with the greatest number of operations since 2012; in Equity Capital Markets as the top advising bank since 2009; in Debt Capital Markets as the leading bank in Mexico for five years in a row; also in syndicated loans, a business it leads for the fourth consecutive year by number of operations; and finally in supply chain finance, where the bank has the largest market share in Mexico.
Álvaro Vaqueiro, general manager of Wholesale and Investment Banking at BBVA in Mexico, said: "This recognition is thanks to the confidence of our clients who allow us to support them in their projects, and reaffirms the Group's fortitude and experience in Mexico in the wholesale banking segment."
BBVA Garanti, best bank for corporate responsibility in Central and Eastern Europe
Responsible banking has been a fundamental part of Garanti BBVA's business strategy for years now. As a founding member of UN's principles for responsible banking, Garanti BBVA has contributed to numerous projects, adding value to society and creating value for shareholders. Euromoney has once again recognized the bank's efforts in this regard at its annual awards, selecting Garanti BBVA as the 'Best Bank for Corporate Responsibility in Central and Eastern Europe.'
Garanti BBVA CEO Fuat Erbil had this to say about the distinction: "This award recognizes all the activities and innovative products that we have been implementing for many years in support of sustainable social development. We have always worked to benefit our country and society by innovating within the sector, and we still do today."
Euromoney Awards for Excellence
Euromoney's Awards for Excellence were established in 1992 and were the first of their kind in the global banking industry. In 2019, Euromoney received almost 1,000 submissions from banks in close to 100 countries.