BBVA USA's Rosilyn Houston named in American Banker as one of the Most Powerful Women in Banking
The fourth time's a charm for BBVA USA's Senior Executive Vice President and Chief Talent & Culture Executive Rosilyn Houston, who was named Monday to American Banker's Top 25 Most Powerful Women in Banking list.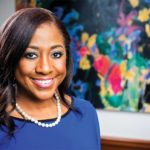 Houston has been included in the industry-standard's annual list since 2016 as one of its Women to Watch. In 2019, the outlet advanced her to its Most Powerful Women in Banking list, naming her one of the banking industry's top twenty-five female leaders.
In its writeup, the outlet lauded Houston's initiative and influence, saying "for many years (she) has advocated for women and minorities in the banking business". Houston, who has been a member of the bank's Management Committee since 2015, said that it's her pleasure to serve on behalf of the bank's employees.
"It has been my honor and my pleasure to serve the nearly 11,000 employees of BBVA in the USA and advance a culture where all people feel valued and respected, define their work as meaningful, and feel proud of the brand they represent," Houston said. "That alone is an honor, but to receive recognition from American Banker that the work I'm doing in support of the lives of my colleagues is advancing both BBVA and the industry is incredible. It's not something I would have ever imagined at the start of my career."
Under Houston's watch, BBVA USA's Talent & Culture team has advanced many and various initiatives aimed at underscoring the bank's "One Team" value, including launching Women in Leadership, the bank's first Business Resource Group (BRG), and forming a robust and award-winning employee benefits program. In 2018, Houston continued to work on programs that empower employees and boost employee satisfaction. Included among them were:
Implementation of salary-based healthcare premiums, an initiative that relieved the employees who need it most from the burden of rising healthcare costs. Employees are responsible for premiums according to how much they make. Premiums are divided into three tiers with a 31 percent difference between tier 1 and 3.
Ensuring that the bank's candidate pool for open positions, including those at the highest levels, is diverse.
Modification of a global policy that previously did not allow bank employees to sit on for-profit national board seats. Houston worked to have the policy changed and then further worked with the global team to frame new guidelines.
"The relative success or failure of any business comes down to its people," Houston said. "As the head of the bank's Talent & Culture unit in the U.S., I feel this acutely and take great pride in leading our efforts to foster a best in class workforce. Being honored by American Banker in this way makes me believe I'm making a real difference and energizes me for the road ahead."
For more on American Banker's Most Powerful Women in Banking feature, click here.
For Houston's American Banker Profile article, click here.
For Houston's executive biography, click here.