In a year marked by the reactivation of the high-yield bond market, and growing investor interest on ultra-long issue maturities, and despite a string of global macroeconomic developments that had a severe impact on the fixed income market, BBVA performed remarkably well in the bond origination market, even managing to surpass the total volume it placed in the market in 2015.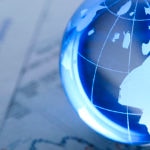 In 2016, the volume of issues in the bond market dropped significantly. This situation was mainly the result of the strong drop in the issuing activity in the financial (-32%) and public (-9%) sectors, which the corporate bond market was not able to offset, despite growing 27% from 2015.
Over the course of the past 12 months, notwithstanding favorable financing market conditions, Spain recorded a drop in first-time bond issuer activity. However, a series of first-time bond issuers entered the capital market, in furtherance of the bank disintermediation process that began in 2013.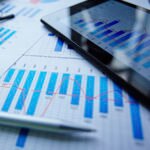 Interest rate trends had a marked impact on bond market activity in 2016.  Thus, low interest rates sparked a growing interest for ultra-long maturity terms. Issuers leveraged growing interest among investors seeking attractive yields to issue bonds with longer maturity terms, in some instances in excess of 15 years.
Low interest rates sparked growing interest for ultra-long maturity terms, in some instances in excess of 15 years
Telefónica led the market with a 15-year maturity public issue and a 35-year maturity private issue. Companies such as Acciona and Repsol also issued 15-year maturity bonds. These noteworthy transactions were led by BBVA, the most active institution in this ultra-long maturity term transaction segment, a segment that is not very usual in the EU market.
Another remarkable trend in 2016 was the significant increase in the size of operations by corporate issuers.
The most active sectors
The high-yield market rebounded in 2016, mainly driven by the transactions undertaken by companies such as NH Hoteles, Gestamp, Lecta or eDreams, which already had experience in the market, and also for the transactions undertaken by first-time bond issuers, especially in the real estate sector, such as Merlin Properties or Metrovacesa.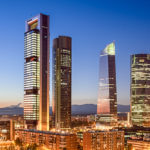 Cuatro Torres Business Area, Madrid, Spain.
BBVA and its participation in the bond market
The institution's bond team focused its efforts on three lines of action:
Ultra-long maturity issues: BBVA was the most active institution in this segment, leading operations for Repsol's €100 million 15-year maturity bond issue; Telefónica's €750 million 15-year maturity bond issue; Acciona's €22 million 15-year maturity bond issue; Telefónica's €150 million 35-year maturity bond issue; the Automonous Community of Madrid's €60 million 50-year maturity and €300 million 30-year maturity bond issues.
High-yield segment: BBVA continued focusing on this segment, achieving the notable success evidenced by its second position in the ranking. BBVA took part in Gestamp's €500 million; Lecta's €600 million; NH Hoteles' €285 million; and eDreams' €435 million bond issues.
Green / Sustainable / Social Bond Issues: BBVA remains highly focused on all the initiatives that are being developed in compliance with the Green Bonds Principles, and has been one of the most active institutions, leading operations for ICO, Iberdrola, EDF and Acciona, to name a few.
Forecasts for 2017
In 2017, BBVA expects volatility and short bond issue windows to continue, marked by the EU's busy electoral agenda, the beginning of the Brexit negotiations, the impact of Trump's policies and the ECB's bond-buying program.
On an industry basis, BBVA expects financial activity to increase in 2017, as a result of the need to start meeting the minimum regulatory requirements for bail-in-able liabilities, i.e. the liabilities capable of assuming the losses that Spanish and European banking institutions will need to start meeting as of 2016.
In this environment, BBVA expects to be able to keep its leadership position in 2017 in the three sectors – corporate, financial and public sector – with a special focus in the sectors in which we expect higher growth, such as bond issues in the corporate sector linked to the merger and acquisition activity and bond issues in the financial market to meet the aforementioned regulatory requirements.