Carlos Torres Vila: "The customer will be the biggest winner in this new financial ecosystem"
BBVA CEO Carlos Torres Vila explained this morning that "the customer will be the biggest winner" in the transformation that the banking sector is going through. BBVA is "redefining its value proposal, determined to become a better bank for our customers," he explained in the 13th Meeting on the Financial Sector, organized by Deloitte together with ABC and Sociedad de Tasación. "We have the opportunity to make a positive impact on the life of people, helping them manage their finances and meet their lifetime goals".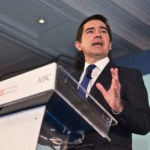 According to Carlos Torres Vila the way to "become a better bank for our customers" is by putting the benefits that technology enables at their service, helping them manage their finances, and offering them both the best banking solutions and support for their planning and decision making processes. And, as the CEO reminded the audience during his presentation in the Challenges and opportunities of the banking industry section, these ideas are summed up in BBVA Group's purpose statement: "to bring the age of opportunity to everyone."
His speech was divided into three distinct sections. First, he described the financial sector's current status. Then, he focused on BBVA's strengths, which have allowed the company to secure a solid foothold to take on the challenges of this new financial ecosystem. Finally, he detailed the key points of BBVA's strategy.
At the beginning of his presentation, the CEO explained that we are in a complex scenario for the financial industry resulting from a variety of circumstances, including low (even negative) interest rates in developed countries, a convoluted macroeconomic environment, an increasingly stricter regulatory pressure and the challenges of competing against players offering a similar portfolio of services.
In this context, he stressed that the way of banking is changing as a result of the arrival of new competitors, the appearance of technological breakthroughs capable of redefining the banking business and a shift in customers' expectations, who now expect to be able to interact with their bank anywhere, anytime. All this could lead to a new wave of disruption that may lead to new business models capable of leaving banking institutions out of the picture.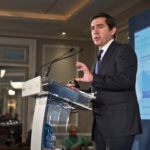 BBVA CEO, Carlos Torres Vila, during his presentation at the XXIII Financial Sector Meeting held in Madrid on April 20, 2016
In this sense, Carlos Torres Vila said that BBVA Group's solid foothold will allow it to take on this new scenario. Speaking about the company's strengths, he singled out BBVA's attractive and customer centric business model, geographical diversification, a risk policy based on caution and proactiveness, and solid and high quality capital ratios.
Then, Torres Vila focused on the BBVA's six strategic priorities to become a better bank for its customers:
Offer the best customer experience, through simple and adequate solutions.
Drive digital sales, especially through mobile channels.
Develop new business models, either in-house or through partnerships with third parties.
Optimize capital allocation, prioritizing business investments and decisions that yield higher returns on the regulatory capital
Maintain leadership in efficiency, leveraging technology to simplify processes and preserving customer experience and quality.
Build, inspire and retain the best team.
To conclude, he reiterated that the financial ecosystem is being redefined by the macroeconomic scenario, regulation and new technologies. In this context, he assured that BBVA is well-positioned to thrive on this new environment thanks to a recurring and well-diversified stream of revenues; optimal risk management policies and a strong capital position. And he underscored that BBVA has a clear vision and a defined roadmap and the ambition to become a better bank for its customers, leveraging technology and data usage.