Carlos Torres Vila: "We need to make an effort, as a society, to ensure no one's left behind in digital inclusion"
Speaking at IIF Digital Interchange meeting, BBVA Group Executive Chairman Carlos Torres Vila said that the lockdown as a result of the pandemic boosted pre-existing trends toward the adoption of new technologies, towards digital. In his opinion, digital inclusion suppports all types of inclusion: educational, social and economic. That is why society needs to make an effort to ensure that no one's left behind. "I think what stands out is the need for a more sustainable and a more inclusive economy. For this, we need a policy and regulatory environment that fosters innovation," he noted.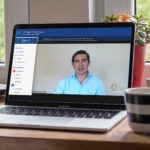 Carlos Torres Vila spoke to Brad Carr, Managing Director, Digital Finance - Institute of International Finance (IIF) during the opening of the IIF Digital Interchange webinar. BBVA's Chairman emphasized, at the beginning of their conversation, how the COVID-19 lockdown boosted pre-existing digitization trends, as well as the adoption of new technologies. In this context, companies and public services faced the challenge of tackling this fast-adoption process to maintain standards and be close to customers at a time when it was most needed. "As for banks, digitization proved essential: It has allowed us to keep the bank running during lockdown in all our geographies and to stay close to our clients, but also to support the economy during these difficult times, providing payment holidays and liquidity," he explained.
According to BBVA's Chairman a significant part of the digitization that is happening is here to stay. That is why it is so important to ensure that it's universal, that we don't leave behind the most vulnerable. "Digital inclusion is behind all types of inclusion: educational, social and economic. … That is why we need to make an effort, as a society, to ensure that no one's left behind."
In his opinion, the pandemic has evidenced the need for a more sustainable and more inclusive economy. "BBVA has a clear purpose: To bring the age of opportunity to everyone. We think technology can enormously contribute to this end and help the economy recover as quickly as possible. But, for this to happen we need a policy and regulatory environment that fosters innovation and change," he said.
Carlos Torres Vila underscored the three lessons that the experience of the past few months has taught us, and that can point us in the right direction going forward. First, he referred to the efficiency and the flexibility of cloud computing, which has enhanced digital processes. This evidences the importance of facilitating the adoption of new technologies by financial institutions and to continue strengthening cybersecurity and operational resilience.
Second, in this context, supporting innovation and the emergence of new digital solutions requires adopting flexible regulatory frameworks, based on principles such as the "same activity, same risk, same regulation" principle, which allows for consumer protection and market integrity. Third, the adoption of digital channels will boost the role that a few tech companies play. In this sense, it is essential to preserve competition in the digital market and establish common rules in digital markets to ensure a competitive economy and a dynamic and open financial services market.
The importance of sharing data
Carlos Torres Vila also spoke about the importance of data and its use. He explained that COVID has produced an increase of protectionism and market fragmentation. And if this happens also in the data domain it will be hugely destructive for value across the world.
In his opinion, data is essential to delivering experiences that truly bring value to customers and clients. "As financial organizations, through data, we can have a much more profound impact in people's lives, in the businesses of the companies by helping them make better decisions on money. And therefore they can better meet their life goals or business calls," he said.
BBVA's Chairman explained that large digital players are basing their business models on data collected from billions of online interactions and generating more business. However, data belongs to the data subject, not to the company that gathers the data, he emphasized. Then, companies should only use data if the user knowingly consents to said use, and that it is this user who should also decide if he wants to share this data. In this case, "sharing the data with other companies, including competitors, should be mandatory if the data subject well so wishes. And this dynamic will allow to create value, foster competition and innovation, and increase the competitiveness of the economy," he said.