What is CETA and what can Spain expect from this agreement?
After seven years of negotiations, the Canada-Europe Trade Agreement, CETA, has entered into force provisionally.  Under this bilateral agreement, the most ambitious signed to date by Brussels, most custom duties levied on trade flows between both countries will be scrapped.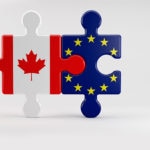 €12 billion per year. That's how much European authorities expect the free trade agreement with Canada will bring to Europe's GDP.
According to its most ardent proponents, the agreement will boost the competitiveness level of EU businesses in the Canadian market. Specifically, the treaty will entail the virtual removal of 99% of custom duties (taxes) levied by the North American country on EU imports.  This, according to the European Commission, will yield annual savings of about €400 million, an amount that will rise to nearly €500 million by the end of the transitional periods.  And the advantage will be the same the other way around: Canadian exports to the EU will no longer be subject to customs duty.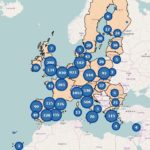 Representative sample of EU cities and towns exporting to Canada.  It is based on a subset of all EU companies exporting to Canada. - European Commission
This treaty is an example of the so-called "new generation" agreements around which the EU is building its trade policy: Agreements that seek to cut both customs and non-customs barriers that limit the free-flow of goods, services, people and investments, while pushing new standards intended to protect the environment, labor market or intellectual property rights.
In addition to removing many of the hurdles holding down bilateral trade, the treaty also will provide unprecedented market access to European companies, allowing them to participate in Canadian public bidding processes.  EU businesses will become the first non-Canadian enterprises allowed to submit tenders for the supply of goods and services to federal, provincial and municipal administrations.
On the other hand, it will make it easier for European professionals to work in Canada and simplify investments in this country.
The agreement was signed by the parties involved on October 2016, but still needs to be ratified by the national parliaments of all EU member countries —in some cases, even regional ones— in order for it to take full effect.
Opportunities for Spain
Bilateral trade between Spain and Canada has been picking up in recent years, after a small slump triggered by the international financial crisis. Trade flows with the North American country have been on the rise since 2011. According to estimates, Spanish exports to Canada totaled €1.49 billion in 2016, up 8.5% from €1.37 billion in 2015.  Until now, Canada has ranked 20th in the list of Spain's non-EU commercial partners.
According to an article by the Bank of Spain, the agreement will have a positive impact, and will help our companies expand their operations in the Canadian market.  In particular, Spain will benefit from the removal on import duties on pharmaceuticals, machinery, mineral fuel, clothing and footwear, motor vehicles and components and chemical products.  The agro-food sector will also get a boost: Duties will be eliminated in the export of key products such as wine or cheese.
Overall, 91% of the more than 5,400 Spanish companies that export to Canada are SMEs and, according to the European Commission, will benefit especially from this agreement.  Reducing trade barriers or simplifying customs procedures will make it easier for these companies to compete with larger enterprises.
In the article cited above, the Bank of Spain also notes that from a legal standpoint, CETA does not modify any EU regulations, meaning that all imports from Canada will still be required to comply with EU regulations and vice versa.
Lastly, it is worth emphasizing that the relevance of this agreement lies not only in the economic impact on the economies of the signatory countries, but also in that it could provide the blueprint for future agreements with other developed countries.