The outlook for Argentina's economy in 2018 remains optimistic, with GDP expected to expand by nearly 3% for the second consecutive year. However, achieving sustained growth and attracting international investment will depend, not just on stable macro indicators, but on long-lasting structural reforms. While the initial signs of economic recovery became apparent in the second half of 2016, it wasn't until mid-2017 that growth rates began to pick up across most industries.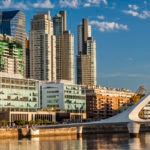 By August, this Improved outlook, along with a gradual decline in unemployment and inflation, led to higher consumer confidence and an increase in loan demand.  However, the improvement in real income wasn't the only factor lightening consumers' moods. New opportunities were appearing, such as access to mortgage loans in indexed units (UVA) for prospective homebuyers. These and other innovations are pivotal to expanding the horizons of families and businesses, and supporting a substantial change in Argentina's economic prospects.
The key to all this is keeping inflation under control. While some progress has been made in this regard - with a drop of almost 14 percentage points between 2016 and 2017 - it hasn't been easy to drive the Consumer Price Index below 1.5% per month.  The central bank recently toughened monetary policy to signal its commitment to reaching the goals it has defined. A reduction in primary expenditure by 1% of GDP in 2018, if achieved, would contribute to reducing inflation to a single digit by 2019.
It's particularly important to keep reducing inflation"
A more predictable economy would make Argentina a strong contender in the competition to attract investments in the region. However, what will define the battle to achieve sustained growth is not just macroeconomic stability, but the government's ability to implement structural reforms.
Following the ruling Republican Proposal party's victory in the October parliamentary elections, the government of President Mauricio Macri has managed to make the opposition and other stakeholders agree on several initiatives aimed at making the economy more competitive. They include the recent agreement with the provincial governments on taxes, and the pension reform.
A series of tax initiatives to be discussed in Congress aim to limit the fiscal burden and provide incentives for investment by reducing taxes on reinvested earnings.  As for the job market, the objective is to reduce litigation and improve access to stable employment through a sweeping initiative that would reduce contributions by employers and encourage them to regularize their informal workers.
These reforms will be key to ensuring sustainable economic growth. Argentina needs to make its exports more competitive, by lower taxes and increasing productivity.  The main reason for optimism is the emerging consensus that will allow the country to focus on solving these structural problems in the medium and long term.  In this context, progress in the reforms may be slower but will longer lasting, in contrast to the frequent policy shifts that have vexed the Argentine economy in the past.