The fact that a long and narrow country like Chile - where going from one end to the other is an adventure in itself – dares to explore beyond the established limits, moving its border to the north and the south in order to reveal new terroirs with new climates, land and winemaking methods speaks to a country of renewed youth where diversity is the name of the game.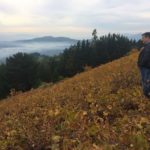 In a place with so many different climates, so many recovered old vineyards, with that passion for reviving old winemaking techniques, with less wood and greater care for the fruit, with large foudres where oxygen may be more friend than a foe, with greater soil studies, higher altitude and more micro-climates, it only made sense that Chile would incorporate wines that seemed overlooked, but which currently give Chile's portfolio greater importance, more layers. Just as the land dictates, definitely more adventure.
Sommelier Josep Roca at El Celler de Can Roca (the best restaurant in the world in 2013 and 2015, according to the list of the World's 50 Best Restaurants) traveled across Chile, from south to north – not the other way around – to get a better grasp on the current status of Chilean wine. And he discovered exciting landscapes, with old farmers who still maintain family traditions, peasants who refuse to flirt with the latest fashions or technology, terroir scholars, underexploited vines and an authentic local cuisine whose unique flavor remains intact. In the Malleco Valley, in the current southern tip of Chile – because there are more projects still being developed further south near Lake Ranco, below Valdivia – perfectly paired, delicious wines are born like SOLdeSOL of the Aquitania vine, a succulent and balanced Chardonnay with a significant stoke of minerals and a lot of depth. Heading toward the Itata Valley there is a similar Chardonnay – Pandolfi Price with a notable spark. It's crunchy and vibrant. These two examples alone already point to an evolution in Chardonnay beyond the obvious malolactic varieties – that oily feeling in your mouth, like butter – and with less wood. Wine is made of fruit and wood is a condiment. Here they understand that.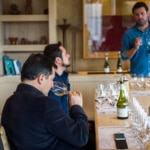 Josep Roca tastes a Chilean wine.
The Itata Valley has proven it knows how to play with interesting vines that were not included in the catalogue of Chilean wine (País, Cinsault, Moscatel and Semillón, among others), even though they are varieties that have been planted for nearly a century in rain-fed vineyards with no irrigation technology and often with no vine training. The vine is naked, wild, producing wines with enormous personality, very fruity, juicy and stimulating. Guided by terroir specialist Pedro Parra, Josep Roca got to know a place in Chile that is the setting for a silent and overdue revolution that little by little is laying the foundation for a new enology. Old granite soils, decomposing, fractured rocks. A landscape of mosaics and fierce beauty that extends toward the Maule Valley, giving rise to juicy wines, like those that portray the reality of Cauquenes, famous for its "pipeño" wine. They are wines that are normally made from País vines and rest in old pipes or raulí foudres. They are later bottled as a table wine but are slowly gaining attention. One of the first people to take up the cause was French enologist Louis-Antoine Luyt. His wines have traveled the world and are included in one of the thousands selected by Josep Roca for El Celler de Can Roca. Names like Clos des Fous, Maitía, Aristos, Huaso de Sauzal, Bouchon, Las Luciérnagas, Bisogno and Erasmo complete the Southern map, full of nuances that reveal a story and their origin.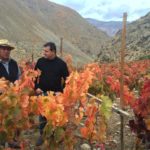 Josep Roca with Juan Luis Huerta during Josep's travel to Chilean terroirs.
If we go to the northern end of Chile, traveling through the interesting wines on the Colchagua Coast – Koyle winery wines are a good example – we reach Huasco, where the Tara wines (of the Ventisquero winery) are the most extreme in Chile. The northern border.  Ungrafted vines, with their roots in calcareous, saline soils where they fight to offer a concentrated and rich grape whose juice is fermented but not filtered.  This is how the world gets Chile's cloudy and delicious white and red wines with strong mineral flavors and an extremely limited production – no more than 800, or in some cases, 500 bottles per year. They are also among Josep Roca's selection for his restaurant.  Limarí and Elqui follow, still part of the area that represents northern Chile.  Here projects full of energy grow under pristine skies.
Enologist Marcelo Retamal's Alcohuaz is one, with an amazing winery under construction, designed with winepresses, concrete eggs and Austrian foudres. They are making Garnachas, Cariñenas – at 2,179 meters they say it's the highest it has been planted– and a Malbec that gives you goose bumps. Talinay is an 80 hectare winery with a lot of calcareous soil – in other words, an incredible mineral flavor. The sparkling aftertaste of chalk is present in the Sauvignon Blanc, but can also be noted in the Chardonnay. And even though it's not part of its Bedrock project – a mind-blowing Malbec planted on andesitic volcanic rocks. Just like everything Chile currently offers, diversity that has never been seen before