Financial services are key to helping citizen endure the social and economic impact of the COVID-19 crisis. BBVA firmly believes that banks are a powerful tool to guarantee the protection of the most vulnerable, relieve the financial burden of those suffering the most from this crisis, and provide sufficient financing for the subsequent economic recovery. For this reason, it has launched numerous initiatives around the world to protect its employees and society as a whole, and support customers during this period.
BBVA's Group executive chairman said that the bank has to "step up and make a difference" to do everything in its power to "save lives, mitigate the economic impact, and help others overcome these difficult times."
With this commitment in mind, BBVA has stepped up its efforts to help society in its fight against the COVID-19 pandemic. It has therefore committed to donate an amount that will come close to €35 million in the countries where it operates to support healthcare authorities and social organizations, and foment scientific research.
BBVA also launched the campaign 'Your contribution is worth double' among its employees. Staff who wish to do so can collaborate with this campaign, and for every euro donated by an employee, the bank will contribute another. This donation is in addition to the initial donation mentioned above. We have also launched various voluntary campaigns in many of the countries in our footprint.
The BBVA Foundation allocates 2.7 million euros to support 20 scientific research projects on COVID-19.
On May 27, BBVA placed €1 billion in the first issue of a COVID-19 social bond by a private financial institutio first issue of a COVID-19 social bond by a private financial institution in Europe n in Europe. Demand was nearly five times the initial offering. The bond issue consists of senior preferred debt, and is part of BBVA's framework for green, social and sustainable bond issues and the bank's Pledge 2025. The funds will be primarily allocated to mitigating the severe social and economic impact caused directly or indirectly by the COVID-19 pandemic.
BBVA is fully committed to its role in this crisis. And, as an act of responsibility with society, customers and clients, shareholders and employees in the current context, Carlos Torres Vila also announced recently that "those of us running the bank on a global level and in the different countries have decided to give up all variable compensation in the year 2020".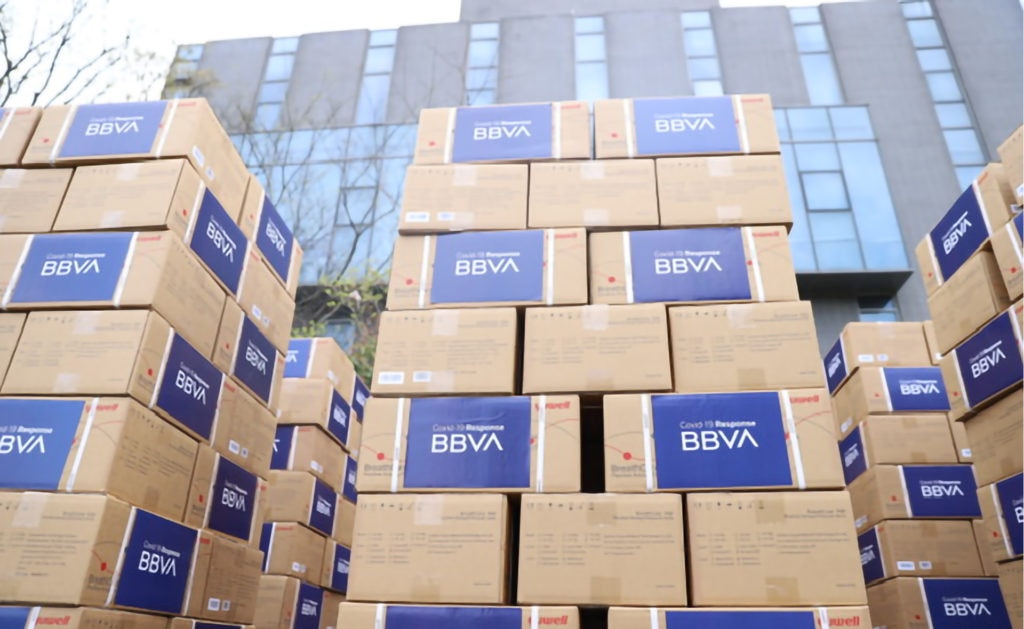 BBVA will devote the €25 million donation to battle the disease, helping health authorities and social organizations in the countries where it operates, while fostering scientific research. - BBVA
Employees and customers health, a priority for BBVA
From the very beginning, BBVA's priority has been guaranteeing the safety and health of its employees. For this reason, it has guaranteed the availability of tools needed for teleworking, first in Spain and then in the rest of countries with quarantine measures in place. Moreover, since the start of the COVID-19 crisis, and following the authoritys' guidelines, BBVA has made it easier for non-digital users in Spain to do their banking from home so they don't have to go to a branch. However, BBVA is keeping some branches open due to being named as a critical service.
BBVA is supporting the most vulnerable companies and individuals
Banks are a fundamental channel of financing for groups affected the most by the economic impact of COVID-19. In BBVA's case, the bank has put in place initiatives in different countries.
In Spain, BBVA has made a €25 billion line of credit available to SMEs and the self-employed to mitigate the economic impact of coronavirus. In addition, BBVA is backing the Official Credit Institute's (ICO) €400 million line of credit to help companies in the tourism, transportation and hospitality industry to deal with the transitory liquidity problems caused by this crisis.  BBVA has also supported SMEs, self-employed and businesses through government-backed ICO facilities. As of April 30, the bank has processed more than 60,000 transactions.
Also in Spain, through the Spanish Banking Association (AEB in Spanish), BBVA, along with the rest of Spanish banks, has promoted a) a deferral of up to 12 months on capital repayments for those with a mortgage on their first home  and b) a 6-month deferral on the principal repayments on personal consumer loans for customers affected by the COVID-19. It has also promoted with other local banks a deferral of up to three months on rent payments for families living in dwellings belonging to the Spanish Social Housing Fund.
Financial services and products are indispensable for groups of customers like retirees. For these customers, BBVA will make April pension payments early. In addition, if they need to withdraw cash, they can use the closest ATM to their home from any network in the country. BBVA will be waiving ATM fees between April 21st and 30th. Furthermore, BBVA is bringing forward payment of unemployment benefits for its customers in Spain. The goal is to help customers minimize the economic impact of the coronavirus crisis and avoid an influx of people at branch offices.
In addition, BBVA is giving customers greater flexibility when it comes to making their insurance policy payments, helping them contend with the COVID-19 health crisis. Re: SMEs and the self-employed. BBVA is using its digital channels to provide the Spanish tax details they need to know to be able to file their taxes from home.
In the other countries where it operates, BBVA has also launched many different measures to support its customers during these difficult times.
In Mexico, for instance, BBVA will offer customers who request it a four month grace period on the principal and interest for automobile loans, mortgages, personal loans, credit cards, unsecured loans for SMEs and business credit cards. Furthermore, it will offer a fixed payment plan to lower the monthly payment amount for credit cards for customers who need it.
The bank will also help with healthcare and pharmacy expenses when paying by credit card by offering six months with no interest and suspending fees for low invoicing in Point of Sale terminals, to support stores. And for larger corporate clients, it will offer plans of support that are appropriate for each situation.
In addition, the bank in Mexico announced a Social Responsibility Action Plan to join the different initiatives from the government and public and private organizations to combat the COVID-19 pandemic. It is providing an initial donation of 470 million pesos for the healthcare sector, which it hopes to double with voluntary contributions from civil society.
In Peru, BBVA has approved a €2.5 billion Peruvian sols (around €640 million) line of loans to support Peruvian SMEs. Moreover, BBVA allows consolidating outstanding debt on consumer loans and/or credit cards, with an extension of the payment period and a fee reduction of up to 40 percent. It also allows to delay repayment of all purchases made in June using BBVA cards through September, without charging any interest
In Colombia, the bank will freeze loan payments for up to six months for mortgages, consumer loans, promissory notes and corporate loans. It will also offer a special line of working capital for companies of 300 billion pesos (around €70 million). Also, customers will be allowed to withdraw cash from any ATM without paying any fees and the bank is offering a 90-day loan repayment deferral period to customers. Also, BBVA is offering the lowest interest rates in the financial system as part of the Reactiva Peru's support program for companies (0.5 percent  and 1 percent).
In Colombia, the bank will freeze payments on personal and business loans, for up to six months. It will also offer a special line of working capital for businesses totaling 300 billion pesos (approximately 70 million euros).
In Argentina, BBVA has provided a two billion peso (around €29 million) line of credit for microenterprises and SMEs to purchase teleworking material. In the U.S., it has made loan payments more flexible for companies, eliminated some fees for individuals, and approved delayed payments for consumer loans. The bank has also increased a line of financing for the same demographic, for a total of 15 billion pesos, for salary payments.
In Turkey, it will delay loan and interest payments for individuals until June 30, 2020 at no charge. For businesses, it extends credit payments by up to six months. Garanti BBVA increased the daily cash limit on withdrawals to 5,000 Turkish lira in order to help expedite customers' financial transactions. Customers may also withdraw cash from other banks' ATMs free of charge. In terms of SMEs and micro enterprises, new lines of credit are foreseen if needed so that they can meet their financial obligations.