BBVA CEO Carlos Torres Vila said that BBVA "wants to give its customers and clients the best service by using innovation to transform and disrupt its business as it works to bring the age of opportunity to everyone." This was the core message the BBVA CEO delivered in a keynote speech to a packed audience at the Money 20/20 event in Copenhagen - the leading fintech event in Europe.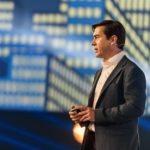 Speaking to an audience of more than 2,000, Carlos Torres Vila shared his view on where the industry as a whole was heading, and how BBVA was adapting, innovating and evolving to take advantage of this opportunity. "New technologies will make banking easier," he maintained during his presentation titled "Banking on Fintech."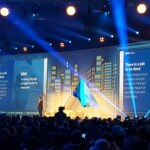 Carlos Torres Vila during his presentation at Money 20/20.
For BBVA's CEO, fintech is at the heart of all the changes taking place in the financial sector. Carlos Torres Vila first explained how the initial wave of innovation in fintech saw incipient technologies that allowed easier banking. That lead to category killers in each vertical - from payments and lending to wealth management - driven by superior customer experience and lower operating costs.
Carlos Torres Vila indicated that financial institutions have a big job to do -  and that is to move from infrastructure providers around money to having a positive impact on people's lives - hence BBVA's tagline of bringing the age of opportunity to everyone.
In this regard, he stressed that the change will be powered by exponential technologies that are enabling things - products, services, interactions, that were previously unimaginable.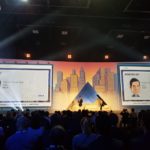 BBVA CEO Carlos Torres at Money 20/20 in Copenhaguen.
Following a presentation by Twitter and Square founder Jack Dorsey, Carlos Torres Vila explained how customer data are at the heart of this transformation. "Data are the cornerstone to create opportunities," he noted.
But to do this - to create the game-changing opportunities and compete with the fintech ecosystem - Carlos Torres Vila indicated that what banks need to do first is earn customers' trust - a stronger and more profound trust.  The process to make this a reality involves creating a circle of trust built around core elements, such as customer consent, the effective use of customer data, creating actionable insights and adding value to customers' lives.
"If we do this, we can build an automated bank for customers - an experience where the customer is under control supplemented by 1-to-1 advice - providing advice through both human to human means and increasingly through AI-driven robo-advisors. You can leave it on automatic knowing it will make the best decisions for you, or turn it back to manual when you want," he added.
In the second part of his presentation, Carlos Torres Vila outlined how BBVA is evolving to meet this challenge, specifically the transformation of core business and disruption through innovative models. He explained how BBVA engages with fintech firms to do two key things. First, to transform - so that the bank enhances the value proposition it offers its customers. Second, to support disruption and build new business models for non-customers.
BBVA's CEO explained that this process translates into five factors for which fintech relationships are crucial: scouting, developing, partnering, acquiring and investing.
Scouting includes things like the Open Talent initiative - through which BBVA runs the world's biggest fintech competition involving centers of innovation - and the bank's attendance at events like Money 20/20.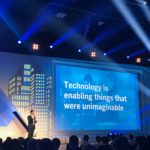 BBVA CEO Carlos Torres was a keynote speaker at Money 20/20.
Developing involves collaborating with startup solutions to build amazing products for customers  - like the PayKey service. But also how the business builds disruptive services internally and puts them into the market through our New Digital Businesses unit - services like Muno that was recently launched in Spain or the Covault identity solution which also just went live.
Carlos Torres Vila also explained how partnering involves the relationships the bank forges which allow it to work more closely with those startups that - like BBVA - are leading the digital banking revolution. This includes initiatives like the partnership with blockchain startup Ripple, which enabled a cross-border transfer in just seconds rather than days. BBVA also has important partnerships, such as those signed with Amazon Web Services and Salesforce, which increase efficiency and make BBVA more effective at reaching and serving customers. Similarly, the bank has joined co-scouting projects like R3 and Hyperledger to help build and influence the emerging technologies that will underpin the banking system.
Regarding acquisitions, Carlos Torres Vila indicated that BBVA wants to bring on board game-changing businesses - those that seek to disrupt and improve the sector like Atom in the U.K., Simple in the U.S, and Spring Studio, which moves our design ambitions to best-in-class standards.
Finally, in terms of investments, the CEO pointed to the partnership with Propel Venture Partners, which allows BBVA to invest in third parties that are at the cutting edge of fintech - startups like Coinbase, Kasisto, Earnest and Taulia - to name just a few. Carlos Torres also explained that all of these efforts are supported by the global initiatives BBVA runs, like the launch of the Open API Market, which enables third parties - fintech startups for example - to tap into customer data to offer them value-added services (always with customer consent).
To conclude, Carlos Torres Vila affirmed that: "This is where we see the future going and we believe that by working with fintech, by creating opportunities and by earning trust we can help deliver peace of mind to our customers. And for the fintechs here today, I urge you to continue working with us, helping us grow and creating the future of banking."