Consumer debt in the U.S. continues to be pervasive some seven years after 2008's economic downturn. If you count yourself as one of those still struggling, take heart. With a dose of discipline and self control, you could potentially loosen debt's vice grip on your life.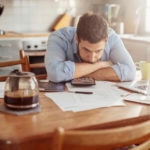 BBVA Compass has multiple resources that can help, including informative articles on its personal finance blog, MoneyFit. Start with Managing Your Debt, an article that encourages readers to think more deeply about the types of debt they've acquired, whether that debt can or should be consolidated and tools for putting together a plan to control or trim debt.
If consolidating your debts makes the most sense for your personal financial situation, BBVA Compass' premier personal loan, BBVA Compass Signature Express, may be a debt consolidation loan to consider. This unsecured loan requires no collateral, alongside an interest rate discount for setting up auto debit payments, and it offers an easy application process.
Debt can be an overwhelming. If it has become so for you, take advantage of the resources right at your fingertips with MoneyFit.
For more information on consumer lending, click here.