BBVA has made design a strategic function within the organization. Digital banking and the development of latest-generation digital products and services  have made financial services evolve towards a new model – one that is closer, more humane and focused on the customer.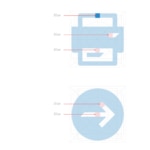 The goal is none other than to offer the best experience for the user, improve his/her level of satisfaction and let design tell the story of this new chapter in the digital transformation of BBVA.
Mary Wharmby, Global head of Design Transformation and a member of the team of Rob Brown, the global head of Design and Marketing at BBVA, has been a privileged witness to this change. "In just a year and a half, the role of design within the organization has evolved considerably. It´s gone from being the responsibility of a small local team, dedicated mainly to production, to a global department focused on creating top-level products and services, with a very strategic focus, "she says.
Design has become the cornerstone for improving user experience, since it permits the simplification of processes and streamlines the relationship between the bank and its customers, in order to make the user feel satisfied when using each one of the channels and products. "We work with all areas of the bank, contributing our experience in design strategy, research, design of services, user experience design and visual design," she adds.
Another characteristic of design at BBVA is globalization. In an international financial institution such as the BBVA Group, with a presence in 35 countries, providing services to 70 million customers, "design is not the exclusive responsibility of one specific country." That makes it possible to achieve synergies and collaboration among teams. "We are at a point where, for example, the teams in Turkey, Mexico and Argentina work on a solution from different angles, with the goal of creating a product that satisfies our customers in different markets," Wharmby explains.
This internationalization is, in fact, one of the aspects of BBVA that attracts new talent. Up to now, designers didn't see banking services as an interesting area for their professional career development. Digital banking, however, has changed this paradigm. "There are very few companies where a design team has can work on a global level and develop products for markets that are so different. BBVA is a real option in this sense," Wharmby says. In fact, BBVA is working on alliances with the best design schools in the world : IE Business School , Istituto Europeo di Design and Savannah College of Art and Design.
All for one…
How do the design teams work with the rest of the organization? The first step is to start up with a project where a triangular model is formed, by the heads of business, user experience (which in turn is comprised of designers and data experts) and the heads of technology or software engineers. All have the same weight in decision-making and are in permanent contact with one another.
BBVA´s design teams appreciate this new way of working in multidisciplinary teams, where new ideas flow and new challenges are taken on every day. "Success depends on continuing to support and broaden the design department while we cultivate a culture and work flows focused on the customer and on the entire organization," says the head of UX and Design.
The principal mission of the teams is to conceptualize and help implement products and services based on customer needs, paying attention not only to functionality, but also to the more visual aspect of financial services. At the same time, the experts in the group are aware of the importance of working with people's money. For them, it´s a commitment, day by day, something that demands that they transmit to customers the confidence that they in good hands.
The team of professionals in Mexico emphasizes that the opening to new technologies also opens the mentality of people who work in banking to create something more contemporary and much more modern. According to these designers, working at BBVA  is an opportunity for the new profile of professionals. "I like working at BBVA for several reasons: the company culture, the diversity, and the opportunity to grow," says Gemma Enríquez of BBVA Compass.
Enríquez of BBVA Compass, Ivan Pedroza of BBVA Bancomer and Juan Camilo Galindo of BBVA Colombia, all agree that the multidisciplinary processes and methodology provide a freshness and different angles of approach. Claudia Rodriguez of BBVA Continental is convinced that design is a vital function for the organization. "Not only are we trying to transform and improve our services for final users, we are having an impact on the entire organization."
Yazmin Venegas of BBVA Bancomer México underscores the importance of working with people´s money. "My impression is that since we are working on a delicate matter, which is people's money, we have the daily commitment of delivering unique experiences and giving the users the confidence that they are in good hands."