Four members of BBVA's design team were invited to participate in Interaction18, the biggest technology and design event in France, to explain how design contributes to organizational change.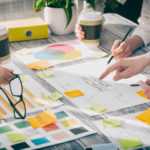 New technologies have revolutionized customer expectations. They demand more and better digital experiences. To adapt to this new scenario, and tackle a much required transformation process, organizations are developing new sets of skills, in fields such as data science, agile methodologies, and design.
Aware of these new requirements, BBVA has set up a team that focuses on driving organizational change through one of these essential pillars: design. Mary Wharmby, head of Design Transformation, hosted a workshop, in the context of the Interaction18 event, held in Lyon (France), during which she discussed some of the initiatives that the Group is undertaking in this field.
Together with Anxo López, Lead Designer Strategist of BBVA, both experts explained how BBVA is leveraging design to guide a profound change in the company and discussed the keys to replicating this process in different organizations. They explained how Design Ambassadors, one of BBVA's key initiatives in this field, was launched to create 1,000 design hybrids across the organization. "We trained employees from all strategic business areas and all geographies, using the Design Practices Community, to help them develop key design skills, such as "design thinking" project management," said López.
Through this program, each 'ambassador' underwent intensive training in leadership, project management and coaching. The goal is to ensure that these new profiles are able to apply basic design principles in their respective areas. 'Design thinking' provides the framework to drive change in a number of areas, including Customer Solutions, Talent & Culture, Sales, Risk and Legal. "The program is contributing to transform the organization in two directions: top-down and bottom-up," said Wharmby.
'Design thinking' teaches professionals from any field of activity to tackle issues following a "user centric" approach, said López. An approach that ultimately permeates the rest of the organization, to foster not only the development of innovative products and services designed for people, but also a change in BBVA's internal culture and processes.
"We had the opportunity to reflect and think with the attendees on strategies to fill up the common existing gap in many companies between companies leadership and employees capacity" explained López. The debate mainly revolved around the ways of implementing this strategy in different types of organizations, to put a general theory into practice through specific steps and effective tactics.
Designing at a global scale
But Wharmby and López's was not the only workshop hosted by BBVA designers in Interaction18. Brian Farrell, Creative Director of BBVA and Juan Rincón, Global Head of UX, explained some of the basics to effectively working with a global designer team scattered in different countries.
They discussed the growing importance of learning how to manage teams in scattered across different geographies in a context of a global and digital economy. They also discussed the benefits of integrating professionals from different parts of the world - with different market perspectives and cultural backgrounds - when tackling the challenges that the creation of a new product or service entails. "All this helps us compete and continually innovate in the current business environment", said Farrell, who also recounted some of the biggest team-management challenges he has had to face, and explained the best tools and methods that BBVA uses to "collaborate at a global scale."