"Education is the best driver to end inequality and promote a sustainable development"
BBVA Group executive chairman Carlos Torres Vila defended the role of education in general and financial education in particular to fight poverty and enhance people's well-being. "Education in general is the best driver to end inequality and promote a sustainable development. It's the simplest way to bring the age of opportunity to everyone - especially those who are most vulnerable," he said on the second day of the BBVA EduFin Summit 2019 being held in Madrid.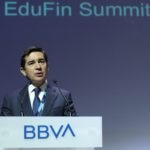 BBVA's chairman was joined by Bank of Spain governor Pablo Hernández de Cos at this annual financial education event. About 250 people attended the Madrid summit, with 30 panelists and international experts from 16 different countries participating.
Carlos Torres Vila said that "it is increasingly evident that development is creating enormous challenges for our society, both environmental and social in nature. These challenges include the fight against climate change and achieving inclusive and sustainable economic growth."
For BBVA's chairman, promoting education is crucial in order to overcome some of these challenges, particularly when it comes to financial education. "Financial education is what really can allow people to make better decisions with their money, have more control over their finances and access new opportunities," he explained.
From 2008 through 2018, BBVA's financial education programs around the world have benefited more than 13 million people. The bank maintains its commitment to continue providing financial skills to disadvantaged groups through initiatives designed to reduce the gender gap, as well as training programs, and accessible, digital financial solutions.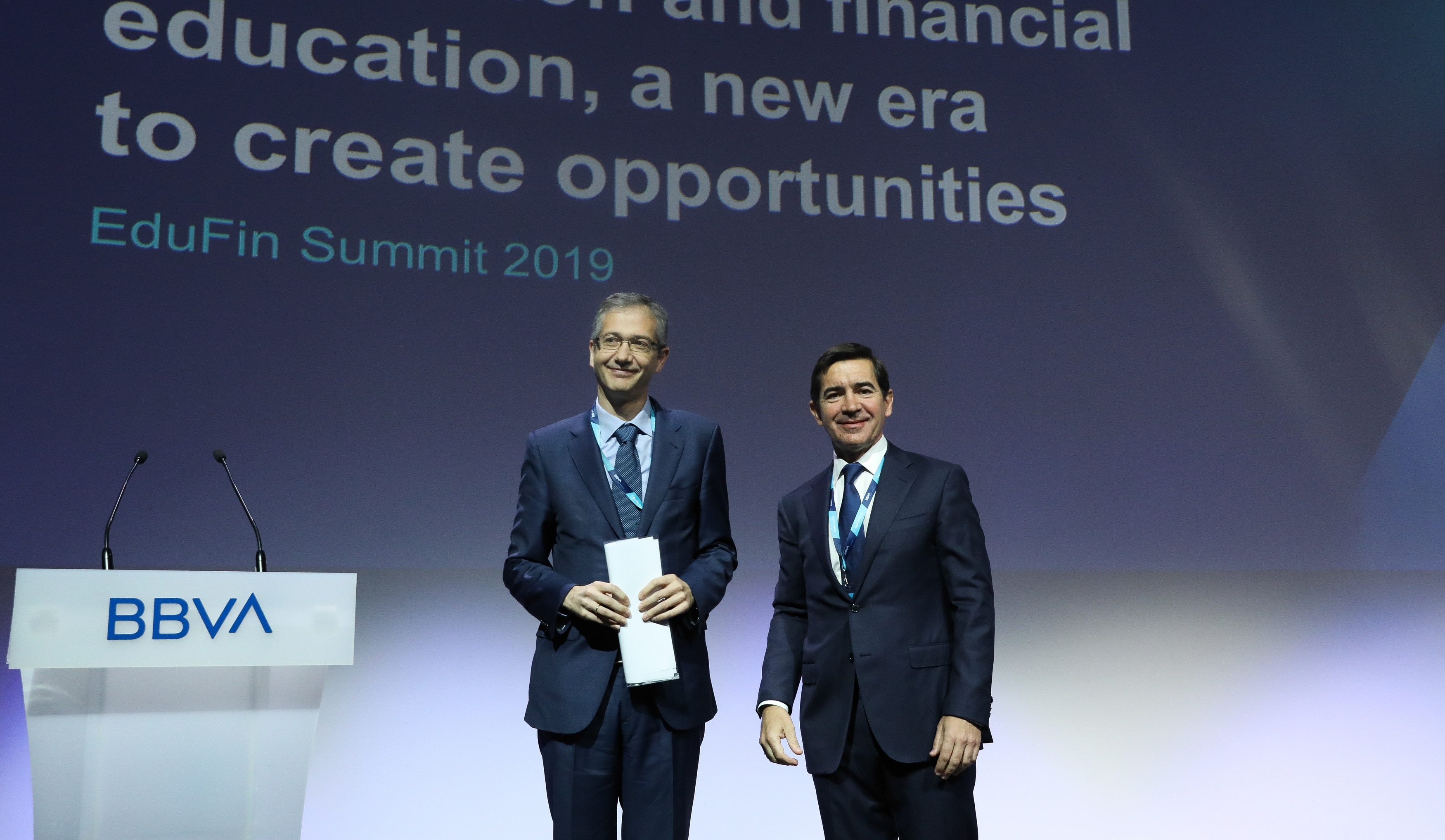 From left to the right: Bank of Spain governor Pablo Hernández de Cos and BBVA Group executive chairman Carlos Torres Vila.
The technological revolution
Carlos Torres Vila also referred to the role of technology and digitization in areas such as the "automation of tasks that digital technology facilitates, including savings. Digital technology is helping us promote financial inclusion, increasing the number of people that have access to our products and services and allowing us to reach more remote places," he explained.
BBVA's Group executive chairman also spoke of the enormous challenge facing the financial sector regarding how to use technology - with customers' consent- to "get more added value from data and promote higher levels of financial training, thus helping people to make the best decisions in their lives or for their businesses."
Finally, Carlos Torres Vila underscored the work of the BBVA Microfinance Foundation, which since 2007, has created opportunities for over five million vulnerable people, especially women, granting $12 billion in productive loans in five Latin American countries. This makes the Foundation the biggest private philanthropic organization in the region. All of this, he recalled, has led BBVA to be recognized by Euromoney magazine as the "World's best bank for financial inclusion."
Also participating in this edition of the BBVA EduFin Summit are the chairman & CEO of the Spanish Banking Association (AEB), José María Roldán; the head of Global Economics, Regulation and Public Affairs at BBVA, José Manuel González-Páramo; and the director of Financial Affairs at the Organization for Economic Cooperation and Development (OECD), Flore-Anne Messy.
After being held in Mexico and Argentina over the past two years, the 2019 edition took place at Ciudad BBVA, the bank's headquarters in Madrid, coinciding with the 10th anniversary of BBVA in Spain's Financial Education Program - a pioneering initiative that has benefited nearly eight million people.