Three brothers, one family, and a one-of-a-kind restaurant. Joan, Jose and Jordi shine the Roca family across the globe and El Celler de Can Roca is seen with neon lights from any corner of the world. El Celler is the best restaurant in the world and they are the geniuses that showcase their talents in its corners.
The Roca brothers have turned El Celler de Can Roca for the second time in the best restaurant in the world. Work, consistency, perseverance, experience, vitality, passion and a good dose of genius have merged into a blend that astonishes the culinary world from their restaurant in Gerona.
Ingredients that, perfectly cooked by Joan, Jordi and Josep, make many people happy, in their kitchens, trying to emulate their idols, or savoring exquisite dishes that resemble works of art with which to enjoy an unforgettable meal with friends or relatives.
The work of a team where each idea, each new road is valued and discussed by the three brothers, because everything converges, in their own words "in harmony, fraternity, innocence, roots, effort and creative pursuit."
The Roca brothers' phenomenon is unrepeatable and will be hard to top. Three genius minds working freely in separate fields, with the best possible distribution of roles.  They complement each other in the salty world (Joan), maître and sommelier or liquid world (Josep) and sweet world (Jordi).
For all this and much more, El Celler de Can Roca is currently the number one restaurant in the World's 50 best restaurants list recently announced by Restaurant Magazine, a prestigious British publication. These awards are considered the Oscars of the culinary world.
Follow the Roca brothers on social networks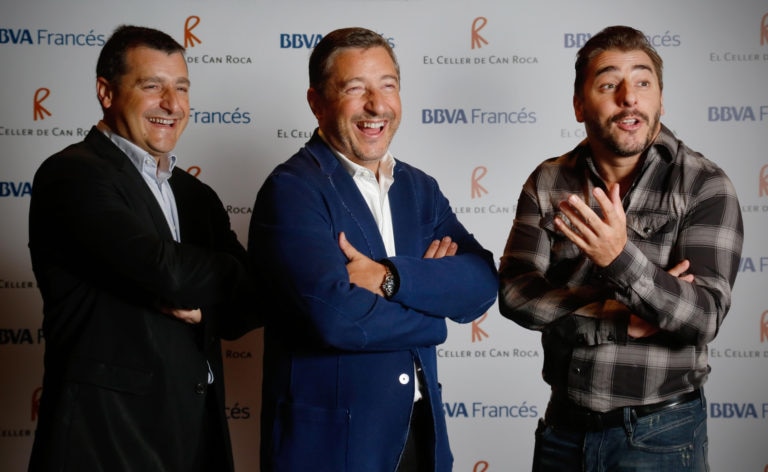 Official webpage
facebook.com/CellerRocaBBVA
instagram.com/cellercanroca
@CellerRocaBBVA