The Marketing Association of Spain has awarded BBVA its top prize for 2019: the top national marketing award. After five months of analysis and deliberation, the Association recognized BBVA's global marketing strategy, brand reputation and results.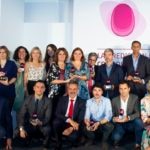 José Luis Arbeo, Head of Brand and Content, and Cristina Villarroya, Digital and Media Strategy director at BBVA, highlighted that this award recognizes the whole team's work: "We are the spokespeople for a very profound change throughout the entire bank. A cultural and organizational change that fundamentally aims to be an example for the whole company."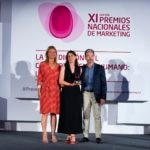 From left, jury member Laura Ros, Cristina Villarroya and José Luís Arbeo from BBVA Spain.
The Spanish National Marketing Awards, created and organized by the Marketing Association of Spain, publically recognize the companies, institutions and professionals achieving excellent results through their marketing strategies.
The event, held in Madrid, featured other major brands and hosted more than 800 industry managers. A total of 321 applications were submitted for this year's awards (26% more than the previous year). Calidad Pascual, Procter & Gamble, Auara, Premium Beers from Spain, Adolfo Domínguez and Havaianas were among this year's winners in the categories of brand, innovation, social marketing, startups and SMEs, and LATAM internationalization for Spanish and Latin American companies.