Spanish banks offer deferrals for customers affected by the coronavirus outbreak
Lending institutions belonging to the Spanish Banking Association (AEB) and the Spanish Federation of Savings Banks (CECA) are joining forces to announce a new voluntary measure to help mortgage customers affected by the COVID-19 outbreak, according to a statement from both entities. People with a mortgage on their first home who are affected economically by the coronavirus outbreak may apply for a deferral of up to 12 months in the capital repayment. Likewise, principal repayments on personal consumer loans are to be deferred for up to six months. This means that these customers will only pay the interests on the mortgage loan, which will reduce considerably the amount they were paying until now.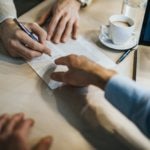 The measure from the Spanish banking sector is in addition and complementary to the ones announced by the Government until now. It also underscores the banks' firm commitment to supporting and contributing to this cause, so that families affected by the crisis can overcome this difficult situation.
The new measure will allow customers applying for it to cover only the payment of interests on their mortgage loans, deferring the principal payment. This reduces the amount to be paid on a monthly basis, giving them more liquidity in the face of the current situation. The deferral will be implemented according to each financial institution's criteria, either through a personal loan, a modification on the mortgage loan or any other equivalent financial solution.
Since the beginning of the coronavirus crisis, Spanish banks have thrown themselves into helping customers with voluntary measures and contributing to the recovery of the economic crisis triggered by the COVID-19. Banks, jointly as well as individually, have announced several measures aimed at helping those who are most affected, and also expressed their desire to collaborate with the measures adopted by the Government to mitigate the economic consequences of the situation. Accordingly, the measure being announced today has been adopted voluntarily by each financial institution, without detriment to other aid measures that each financial institution may offer its customers.
The boards of AEB and CECA will approve in the coming days a sector-wide agreement that will detail this initiative, setting out its terms and procedures.