The most secure credit card is a BBVA credit card, and it's there for all to see
What better way to demonstrate just how secure the card is than Jaime Bisbal, BBVA's Head of Marketing in Spain, showing his off in the middle of the street? This is the bank's way of introducing Aqua, the new family of bank cards that have no number (PAN) or expiration date printed on them and whose security code (CVV) is dynamic.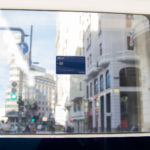 Anyone wandering past 36 Gran Via in Madrid at the moment will see an advertising board displaying the card of Jaime Bisbal, BBVA's Head of Marketing in Spain. This is the new marketing campaign launched by the bank to advertise the most secure card on the market: Aqua. This innovative and pioneering payment method has no visible card number, expiration date or CVV, making the card more secure, in both its physical and digital versions, and giving complete control over it, preventing fraudulent use in the event of it being lost or stolen. The campaign has been designed by the creative agency PS21.
"The aim of this initiative is to show that this innovative family of cards, developed by BBVA and offered to its customers, is an example of a 100% secure payment method. By letting everyone see my personal card, the public will see secure it is," said Jaime Bisbal, BBVA's Head of Marketing in Spain.
How Aqua works
Each time the customer wants to make an online purchase, they go to the BBVA website or app and check the card number, verification code and expiration date. For the CVV, it will generate a random three-digit numeric code that is valid for between five and ten minutes. Thanks to cloud technology and advanced cryptographic algorithms, the code generated for the end user is guaranteed to be secure.
The Aqua card, which is compatible with all of BBVA's mobile payment systems, as well the bank's own system, Apple Pay (iOS), Samsung Pay and Google Play (Android), is now available to BBVA customers. In addition, and in line with BBVA's target to reduce its environmental impact, it is made of recycled plastic.