Europe's technology sector is frequently criticised for lacking ambition, but growth in so-called "deep-tech" start-ups in less glamorous segments of the industry has raised hopes for the region's digital hubs.
Industrial applications and technical platforms that underpin consumer- focused services are attracting record levels of activity and investment, according to Atomico, the venture capital fund that specialises in the sector.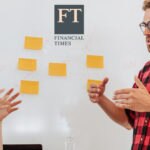 These include artificial intelligence, virtual and augmented reality, big data analytics and chip design.
With its universities and research centres, Europe's science base is strong, but has rarely created tech groups to match those in the US or Asia.
However, venture capital investors are betting that the need to power more complicated consumer and industrial apps, using the internet of things and data analytics, will give Europe's tech hubs an advantage.
More than $2.3bn has been invested in the deep-tech sector since the start of 2015, according to a study by Atomico, and industry executives point to the emergence of expertise in robotics, chips and AI. This is feeding into other start-ups aiming to disrupt industries such as retail and finance.
Deep-tech start-ups are on track to raise almost $1bn this year, four times the amount in 2011. Sigfox, a French internet of things group, Italian fintech venture Euklid and UpCloud, a cloud computing company based in Helsinki, have held fund raisings. "I like to use the word 'renaissance' because scientific invention, creativity and entrepreneurialism are all coming together in Europe," says Mattias Ljungman, a partner at Atomico, which interviewed 1,500 European tech experts as part of its study.
"Take artificial intelligence: European companies are using it creatively for everything from fashion design and music creation to healthcare
US tech giants have sought to tap European expertise, either through acquiring businesses or investing in their own operations in the region.
Amazon's voice-activated speaker assistant, Alexa, was partly built by a team of engineers in Cambridge acquired through the purchase of Evi Technologies. Facebook's Aquila drone initiative is being driven in Somerset, south-west England, where it acquired Ascenta. Google, meanwhile, has built an engineering centre in Zurich.
Asian companies such as Huawei and SoftBank are also investing heavily in research and development in the region.
Microsoft said this week it would invest $14m in an internet of things "incubator" in Espoo, Finland, where Nokia is headquartered.
Some investors sense a shift towards Europe. "Historically the US has a deeper tech record, a deeper tech ecosystem and that's why most of the big companies have come out of Silicon Valley," says Kathryn Mayne, managing director of Horsley Bridge, a fund-of-funds that invests in US and European venture capital firms.
"What's different since 2010 is that Europe has been able to generate some of these big outcomes. It feels like we're entering a time when the power of things like artificial intelligence will drive fundamental change faster
Because much of the innovation in Europe is being driven by research institutions, the talent pool is moving from traditional tech hubs such as London and Berlin. Start-up formation and funding are flowing to locations tied to institutions.
"In the UK, that means Cambridge," says Tom Wehmeier, head of research at Atomico. "But places like Munich and Grenoble are increasingly attracting huge investment."
Atomico's two most recent investments have been in Malmo, Sweden, and Klagenfort, Austria.
visual
In Switzerland, meanwhile, the tech-focused university ETH Zurich has spurred growth in the sector, says Georg Polzer, chief executive of Teralytics, a local data analytics start-up. "Zurich has definitely built a strong position in AI, VR and big data, on the academia and research side thanks to ETH Zurich," he says.
"In the past few years this has started to translate into a number of new companies being started, mostly by alumni
AI has been a particularly powerful driver of growth, says Saul Klein, founder of Localglobe, a London based VC group. "Europe, and the UK in particular, is arguably the best place in the world for AI, given that DeepMind [acquired by Google in 2014] is here and is clearly the world leader in the area. Plus Apple, Amazon, Microsoft, Twitter have all acquired UK AI businesses."
Berlin, Zurich and Paris are also noted for AI research. Rakuten, a large Asian internet group, and Facebook are working on topics such as image recognition and natural language processing in their labs in Paris.
The Hague, Antwerp, Birmingham and Copenhagen were rated in the top 10 for "frontier hardware" skills, including expertise in robotics and drones, in an Atomico study based on an analysis of LinkedIn data. Lisbon and Milan were found to be hubs of talent in VR and AR.
According to Mr Wehmeier, there are two big indicators of European tech strength. The first is the increasing presence of US investors - and "not just the top-tier guys". This year 158 unique funds have invested in Europe, he says.
The other indicator, Mr Wehmeier adds, is the entry of "foreign giants", both from Asia and the US.
Much of this year's record activity in deep-tech mergers and acquisition has been led by overseas groups looking to acquire European specialists, with more than $88bn of deals. Even stripping out the $32bn for the UK chip company Arm Holdings and $47bn for NXP of the Netherlands, deals passed $9bn in 2016, almost three times the 2014 total.
In the past five years Apple, Amazon, Google, Facebook and Microsoft have bought 53 European companies, 30 of them in the deep-tech category. Seven of the deals were in 2016. However, the level of inbound M&A also underscores worries that Europe has yet to produce its own global tech success story.
Doubts persist about the level of funding available to entrepreneurs compared with in the US, in a period of economic and political uncertainty in the region. Some of the more promising start-ups are still eclipsed by well-funded US rivals.
One welcome sign is that global groups seem to be more willing to keep the bulk of their acquired businesses in the region, which has fostered a wider tech ecosystem.
"In the past, it would have been fair to say that these companies were swallowed up by their acquirers and all but disappeared," says Mr Wehmeier. "But the trend now is the giants are building around them as strategic centres for engineering, product design and service creation."
---
For more articles from the Financial Times/ FT.com please register here
Source: Madhumita Murgia 2016. 'Europe digs in to take 'deep tech' advantage'. Financial Times / FT.com. December 1, 2016 Used under licence from the Financial Times. © The Financial Times Limited 2016.
All Rights Reserved.Articles sourced from the Financial Times have been referenced and are used under licence from The Financial Times Limited. These articles remain the copyright of The Financial Times Limited and were originally published in 2016. All rights reserved. "FT" and "Financial Times" are trade marks of The Financial Times Limited. The Financial Times Limited has not endorsed, verified or been involved in the creation of the information provided from other sources in this publication, and is not responsible or liable for its accuracy, completeness or content.