Facebook unveils Oculus Go, a virtual reality headset that operates without a PC or smartphone
One billion people experiencing firsthand all that virtual reality has to offer that's Facebook founder Mark Zuckerberg's ambitious goal. Soon, he will launch a unique new tool to help achieve it: a pair of virtual reality glasses called Oculus Go, which will sell at a relatively affordable price and work without a computer or smartphone.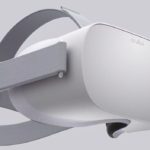 This characteristic alone makes them unique because until now, all virtual reality glasses needed a computer, console or mobile device to function. Oculus Go, however, operates autonomously as a stand-alone device.
Zuckerberg's new product could substantially increase the number of people who can access virtual reality experiences. Oculus Go will cost $199 and go on sale in early 2018.
Better quality, less glare
"There will be a huge variety of experiences and content available from day one," says Hugo Barra, Head of Facebook's Virtual Reality division. He added that the new screen will be more fluid that the LCD and OLED panels used in the past.
The headset is lightweight and made out of fabric. The screen has a display with a resolution of WQHD 2.450 x 1.440 pixels. Oculus Go also has new lenses that ensure better clarity and less glare.
This new product is a major challenge for Zuckerberg at a time when most companies are focused on developing augmented reality. The Facebook founder is convinced of the opposite and has even publically shown his virtual avatar in Spaces, a virtual chat tool where users share videos and photos.