Fed hikes interest rates and opens door to three more increases in 2017
After a yearlong pause, the Federal Open Market Committee voted unanimously to raise interest rates 25bp to 0.5-0.75%. Based on the Summary of Economic Projections (SEP) and Federal Reserve Chairwoman Janet Yellen's press conference, it seems the recent market exuberance has not diverted the Fed from its current strategy for a gradual increases. The press conference reinforced the idea that the committee may be somewhat tolerant in the short-run, but that it would like to see fiscal policy directed at boosting productivity rather than stimulating the economy.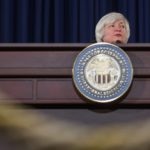 Nevertheless, based on the Fed's historical reaction function, it also seems the Fed will have limited tolerance for unexpected inflation shocks, and significant undershooting of the long-term unemployment rate. The FOMC reshuffle in January will add to the dovish zeitgeist lowering the probability of three rate increases in 2017 and giving Trump some running room in early term.
Regardless, we don't think this meeting suggests Christmas has come early for President-elect Donald Trump's economic agenda and thus we maintain our baseline for two 25bp increase in 2017.
For BBVA Research USA's full analysis of the FOMC meeting, see its latest U.S. Fed Watch.
Any statement or opinion of a BBVA Compass economist is that economist's own statement or opinion and does not represent a statement or prediction by BBVA Compass, its parent companies or management.