Expectation is building among the 17 shortlisted Latin American candidates that will be pitching their projects during the BBVA Open Talent Latam 2016 final. Today, Monday, they will be working long and hard on fine tuning their project presentations, with help from BBVA experts. The winners will be announced tomorrow, Tuesday..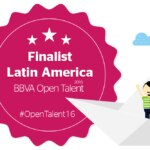 Now in its eighth edition, the finals have been classified according on a geographical area basis. The first, the U.S. and Rest of the World, was organized under the umbrella of Next Money New York, and was held on September 7th and 8th. The winners were startups Cambridge Blockchain and Precognitive, specializing in identity authentication and risk prevention, respectively. Last week it was Europe's turn, during the Next Money London event, with the participation of Derek White, BBVA's Global Head of Customer Solutions. PayKey and Musoni, the payments system through any messaging system or social network and the cloud-based microfinance software, respectively, where named winners in the British capital.
Now, the only question that remains is which of the Latin American candidates – which hail from countries such as Peru, Mexico, Brazil and Colombia - will take the top awards at the Latin American competition?  Today, the finalists are gearing up for tomorrow's event, when they will be pitching their projects to the jury.
The Open Talent Latin American final will take place within the framework of Finnosummit 2016. Hugo Nájera, BBVA's Head of Business Development in Mexico will be one of the speakers that will take to the stand during the event. In this context, the startups that present the most disruptive technological advances in the financial and banking industries will be identified. The contest's main objective is to support the most talented entrepreneurs and to help them make progress through innovation and collaboration.
The awaited final will be held on the 33rd floor of the recently opened BBVA Bancomer building, which houses the Innovation center. The two winners will receive will receive a €30,000 prize each to develop their project, and will be invited to take part, together with the other winning startups, in a two-week (non-consecutive) immersion program in Madrid and Mexico City, coached directly by BBVA expects.