Cash or card? The numbers opting for the latter continue to grow, especially among young people – the millennial generation – and in large cities like Madrid and Barcelona. Additionally, with ever-present POS's and more and more retailers who accept them, card payments are increasingly frequent, even for low value transactions. These are some of the conclusions reached by BBVA Data & Analytics and reported by BBVA Research in a study about spending habits in Spain: The use of cash is on the decline and digital payments are increasingly popular.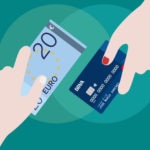 In the under-35 age group, 80 percent of transactions were made using a card, where only 20 percent were used for cash withdrawals. This scale is even more pronounced in large cities, where it was identified that the average number of card transactions rose 170 percent between January 2015 and January 2018 in all age groups.
These are just some of the indicators that confirm the long-term trend toward a cashless society, which is being spearheaded by young people. The data compiled by BBVA Data & Analytics using BBVA card usage information is consistent with the conclusions in BBVA Research's report 'The use of cash and its determinants' and reflects a general trend of "a replacement of cash with electronic payment instruments for the past several years."
Specifically, the data experts observed "sustained growth" in card payments in all age groups and geographic areas in Spain over the past four years.
Generational Differences
The generational difference, with younger people favoring digital payments as opposed to cash, is clearly reflected in BBVA Research's analysis. According to the data, under 35-year-olds made 44 percent fewer cash transactions than the average of Spain's population, whereas over 60-year-olds withdrew cash from ATMs 33.2 percent more.
The millennial preference for cards is more pronounced in more densely populated areas where 83.7 percent of transactions are true card transactions compared to 16.3 percent for cash withdrawals. The trend among millennials is clear: in the past three years, the percentage of cash withdrawals for this age group in large cities fell 7.2 points.
BBVA Research's report forecasts that the use of cash in Spain will continue to decrease over time due to the double effect of generational replacement and the increased penetration of digital technology.  Both of these factors will continue to contribute to the steady decline in the use of cash compared to alternative payment methods. Still, cash won't disappear completely, at least not in the short to medium term.
"As the current older generations (more cash users) give way to new generations who prefer electronic means of payment, we get closer to a cashless economy in the long term." the experts point out.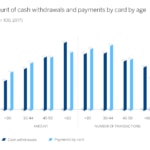 Graph 1: Comparison of cash withdrawals vs. card payments by age group. The index 100 corresponds to the average of all ages.
Where are cards most used for?
In analyzing the Spanish population, it becomes clear that city size is a determining factor in the card usage: between 2015 and 2018, the number of card transactions rose more in large cities (170 percent) compared to medium-sized cities (92 percent) and small cities (47 percent).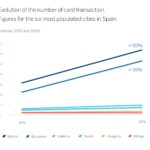 Graph 2: Evolution of the total number of card transactions in the six most populated cities in Spain between 2015 and 2018.
Specifically, the provinces of Madrid, Barcelona, and Vizcaya led in card-based spending as compared to the value of cash withdrawals in the period of analysis. In Vizcaya, cards were used for 81 percent of the spend, which translates to a cash spend of only two euros out of every ten spent in the province. This figure is higher than the number in Madrid (73.1 percent) and Barcelona (71 percent) according to BBVA data.
In stark contrast, in the Spain's northern region of Asturias, card payments represent only 40.5% of total spending transactions.  Other provinces with low use of digital payments are Jaen (with a 40.8 percent of spend using cards) and Melilla (45.6 percent). In these provinces, cash is still used more than cards to make payments.
According to BBVA, in the country as a whole 56 percent of the spend is made using digital methods.
What are cards used for?
According to an analysis of the data, the five main categories of card spending (excluding bank transactions) are food, clothing, bars and restaurants, transport and supermarkets and shopping centers, although there are differences with respect to population size. In general, it can be seen that the amount of cash withdrawals compared with spending using a card is clearly lower in big cities (31 percent of total spending) than in medium-sized ones (43.8 percent and small ones (41.5 percent).
The purchase categories vary according to the retail outlets normally available in different types of city. For example, clothing is one of the most notable in big cities (9.6 percent) but does not appear in small cities where payments are concentrated on food (including supermarkets and small stores) and transport (which includes gas stations).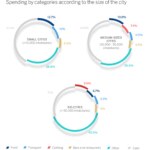 Graph 4: Data on the percentage of spending (in euros) for each category in different sizes of cities between June 2017 and May 2018. The figures are on spending in cities regardless of where users are from.
Card technology
Regarding the different types of cards available, the contactless has seen clear growth in the past three years compared with the use of the chip and magnetic band where use has decreased.
By the end of 20178, contactless cards had taken over from chip cards for the first time. Contactless payment technology has undergone very sharp growth. In March 2015, they accounted for about 6 percent (5.7 percent) of the total number of payments while three years later it is touching 50 percent (49.5 percent). Chip payments have fallen at the same pace at which contactless payments have grown and currently stand at 33.1 percent of payments against 79.2 percent in March 2015. Since 2016, all BBVA cards have been contactless.
The magnetic band is further back and is used less and less (3.3 percent) than other newer methods –among others mobile payments– which have increased to 14 percent of the total.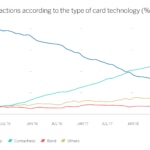 Graph 5: Evolution of the transactions according to the type of card technology between 2015 and 2018.
Increasingly smaller amounts
Payment by card is not only increasingly more frequent, it has also become an increasingly more day-to-day method with the data pointing increasingly to its use for increasingly smaller amounts in big cities. "As the frequency of its use increases, the average card payment in big cities has fallen from 75.9 euros in May 2015 to 64.3 euros in the same month in 2018," BBVA Data & Analytics explains.
That means in three years the average payment amount using a card has fallen by over 10 euros which indicates that cards are no longer used on an exceptional basis or for big purchases. By contrast this development is not so much the case in medium-sized and small cities where the average amount of a payment by card has fallen by only 4.6 and 3 euros respectively.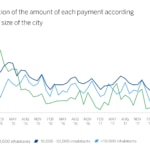 Graph 6: Evolution of the amount of each payment according to the size of the city.
The role of regulation
Regulation has also had an impact in this development. 'Law 18/2014 approving urgent methods for growth, competitiveness and efficiency', which came into effect in Spain in 2015, contributed to reducing the commissions retail outlets had to pay for accepting payment by card. This encouraged both stores and consumers to make more frequent use of this means of payment, also for small amounts. Limits on the minimum amount payable by card even disappeared in some stores.
As a result, as can be seen in the graph from 2015, the average amount of operations using a card fell, particularly in big cities.
Regulation is, therefore, – along with generational change and the spread of digital technologies – another factor that has played a part in accentuating this trend, according to BBVA Research, as has facilitated the adoption of innovative payment method (such as contactless cards).
This study was carried out as part of BBVA's goal of sharing publically the value of data, using aggregate and anonymized data on transactions carried out with BBVA in Spain in ATMs and sales points in stores. BBVA provides statistics on the habits of consumers drawn up using anonymous data on bank card activity through the API Market portal and PayStats services.
*The study was carried out jointly by data experts at BBVA Data & Analytics and BBVA Research.
BBVA Data & Analytics:
BBVA Research: