Five contributions of artificial intelligence in the financial sector
Artificial Intelligence's greatest advances have yet to come, but the combination of big data with machine learning algorithms has already yielded benefits to the financial world daily operations.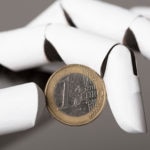 The traditional banking business is undergoing an exciting period of disruption. Big data, blockchain, an eruption of new competitors of all shapes and sizes ... With so much that is new, we run the risk of overlooking how artificial intelligence is already beginning to change the core of the financial business. Its impact is clearly manifest in five areas: Credit scoring (or creditworthiness or rating), market research, personal assistants, asset management, and fraud detection.
1. Asset Management
Startups like Kensho, recently acquired for $550 million, and Dataminr use artificial intelligence algorithms to improve the management of financial assets. Dataminr is specifically focused on identifying patterns and indexes via social networks, whereas Kensho stands out for its ability to establish correlations between news – from Brexit to natural catastrophes – and the markets. This is a topic that was already addressed in 2016 by BBVA Data & Analytics in collaboration with UN Global Pulse, when they studied the impact of natural disasters on financial operations, using the specific case of Hurricane Odile hitting the west coast of Mexico.
2. Credit-scoring
By definition, credit-scoring is technology: it deals with the automated systems used by financial institutions to decide if a pending loan request has sufficient solvency guarantees. Artificial intelligence takes credit-scoring to a new level, allowing greater accuracy, automation, and speed via a combination of algorithms and big data. It also allows a decision to be made with more data when the applicant has a limited credit history. This is precisely the business model used by Zest Finance, a startup created by an ex-Google executive and which sells credit scoring software based on artificial intelligence. China's Internet giant, Baidu, is among its investors.
3. Fraud detection and regulatory compliance
Artificial Intelligence can also act as a detective for financial institutions, which must comply with strict standards to avoid crimes like money laundering. Information systems used to date have lacked accuracy and generated "false positives", which implies more work for financial institutions. Machine learning and artificial intelligence are ironing out this problem as demonstrated by companies like Trifacta and Nice Actimize.
4. Market data and research
Artificial intelligence also plays an influential role in the area between financial management and data. Startups such as AlphaSense and Narrative Science use artificial intelligence to index and select financial data, and then supply it in the form of reports, articles, newsletters, and even personalized web sites, all automated.
5. Virtual customer service assistants
Halfway between robo-advisors and chatbots, the financial sector is using artificial intelligence to go a step further in an attempt to improve customer support and counselling services. The startups Pefin – whose name is a contraction of 'Personal Finance Intelligence' – and Kasisto promise to improve a customer's digital treatment as well as the recommendations they receive by combining big data and machine learning.
Despite these advances, artificial intelligence still has imperfections that need to be resolved. Examples include the lack of full transparency behind algorithms or the lack of empathy and contextualization when providing financial advice. But the stakes – both economic and business-related – are clear: artificial intelligence will put its stamp on a large part of the future of financial services.
At BBVA, the combination of the availability of high-value financial transaction data and the use of advanced machine learning techniques permits the identification of trends and the design of tools to offer customers increasingly personalized and intelligent products and services.