Francisco González presents BBVA Foundation Biodiversity Conservation Awards
Francisco González, along with the Minister of Agriculture and Fishing, Food and the Environment, Isabel García Tejerina, presided the BVA Foundation Biodiversity Conservation Awards ceremony. The winners of the 11th edition of these awards were the Grupo para la Rehabilitación de la Fauna Autóctona y su Hábitat (GREFA), and the NGO Conservation Land Trust, and the communications professional Carlos de Hita.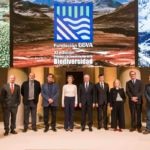 In his speech, the Executive Chairman of BBVA said that "apart from the direct value of their actions, tonight's protagonists are role models that give us hope."
The loss of biodiversity and climate change severely alter the delicate balance of life on the planet and, in Francisco González's opinion, "the current situation is so serious that society must be warned and demand that the public and private decision-makers tackle this challenge in a sustainable and effective way."
"Most people recognize that biodiversity and climate change are pressing problems," said BBVA's Executive Chairman, who also underscored that the award-winners are "an example of how an analysis of reality free of prejudice can lead to action and action to solutions."
 Guardians of nature
The BVA Foundation Biodiversity Conservation Awards seek to promote knowledge, action and raise awareness about the environment and biological conservation. These awards come with 580,000 euros prize money, distributed in three categories: two of them recognize actions in conservation in Spain and Latin America, and the other is dedicated to communication.
The winners in Spain and Latin America this year are, respectively, the Group to Rehabilitate Native Fauna and their Habitat, which is helping recover the black vulture and other endangered species in Spain and Europe; and Conservation Land Trust, the NGO founded by the philanthropists Douglas and Kristine Tompkins, which has converted eight regions into protected areas, which cover over a million hectares in Argentina and Chile with a high degree of biodiversity.
The Knowledge Dissemination and Awareness award went to the communications professional Carlos de Hita, who has been recording the beauty and fragility of nature for decades, and his stunning soundscapes can be heard in exhibits, documentaries and movies.