Francisco González: "The Carlos-Onur duo is going to do extraordinary things"
Carlos Torres Vila, CEO and future executive chairman of BBVA, and Onur Genç, who will take over as CEO and is currently head of BBVA in the U.S., will do "extraordinary things" together with the rest of the BBVA team, said Francisco González, chairman of the Group, speaking at an IESE event in New York.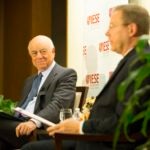 Francisco González spoke in New York in the presentation of a BBVA case study about governance by Prof. Krishna Palepu from the Harvard Business School and Prof. Jordi Canals from IESE. The highly dynamic and hands-on case study method serves as one of the main learning methodologies at IESE. The method asks the students to put themselves in the shoes of the manager.
At the event, Francisco González explained how the Board is critical for the Group and one of its very important missions is naming and selecting the best possible talent.
On Nov. 28, the Board of Directors approved the succession plan for the company's CEO, designating Onur Genç, who is currently the CEO of BBVA Compass and U.S. country manager for BBVA, to replace Carlos Torres Vila as Group CEO once the latter replaces Francisco González as chairman. The changes are expected to take place on Dec. 31st, 2018.
"BBVA is looking at the future"
The Board decisions mean that "BBVA is looking at the future," he said. "Onur is extremely well positioned to do an incredible job."
For a good governance by the Board, Francisco González highlighted four critical elements: solid composition of the Board with a majority of independent members and diverse profiles; a long-term approach; lack of conflicts of interest by Directors; and  solid ethical principles and values. The Board has been fundamental for the transformation project of BBVA, he said.
BBVA started its digital journey more than a decade ago to prepare for the technology-driven revolution that is having profound changes in all industries. These changes include ever-changing customers' expectations, blurring of borders between sectors and markets, the emergence of new players, including Internet giants and a myriad of startups, leading to a constantly evolving competitive landscape. The current changes demand a new legal architecture that ensures that the enormous amount of wealth that this revolution can create benefits the overall society. "I love regulators," he said. "They are the ones that can put some order in this new world".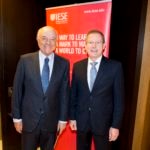 Francisco González (BBVA) and professor Eric Weber (IESE)