Garanti BBVA's Cash Management service portfolio has been recognized by Global Finance magazine as the best in Turkey. The bank's Cash Management model, personalized customer solutions, product diversity and market share as some of the key aspects cited by the publication in its assessment.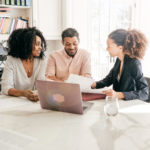 Garanti BBVA CEO Recep Baştuğ recalled that Garanti BBVA set up its Cash Management department in 1996, becoming the first Turkish bank to do so. "And we've continued growing thanks to our solid technological infrastructure, our customer focus and the range of services we offer," he explained.
BBVA's Turkish subsidiary has always chosen to work with multinational corporations when offering personalized services and is still the leader in products and services. "I'm convinced that the wide range of products we offer our customers and our market share in the field have been taken into account at the time of honoring us with this award," said Baştuğ.
Garanti BBVA's CEO emphasized that the bank's commitment to innovation and to analyzing its customers' needs in detail remains firmly in place. "We will continue being the best and making our customers' lives easier with tailored solutions through our more than 900 branches."