The BBVA's Turkish unit has a long history with digital transformation and continues to break new ground. The evolving role of bank branches plays a big part in this transformation - a topic that was discussed in depth at the RBR Bank Transformation Conference in London.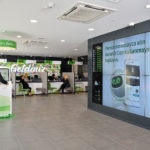 With 580 representatives from over 180 banks in attendance, participants analyzed the future of bank branches in the financial industry. Garanti BBVA Organization and Process Development Manager, Handan Yılmaz explained the current status of branch transformation at the bank, and how this process will continue in the future.
"Transformation is a continuous journey. As we design the future of banking, we are constantly transforming our processes to meet changing needs, while using the technological innovations of today," she said. On the one hand, Garanti BBVA has made a series of improvements to accelerate transactions that take place in branches. On the other, the bank now allows customers to connect to their customer representatives on mobile channels,  and complete their transactions securely without having to come into the branch, she explained.
Last year Garanti BBVA launched a new service to allow customers to digitally approve contracts for basic products and transactions, such as loans and deposits. Given the choice, 85 percent of the bank's customers opted to approve these documents on digital channels.
Garanti BBVA is continuously improving its processes, seeking excellence in both operational efficiency and customer experience. "At Garanti BBVA we want our transformation efforts to add value to our customers' lives," Yılmaz said.