Garanti BBVA bets on solar energy investments in Turkey
Garanti BBVA Leasing continues to build on its support for renewable energy development. Most recently, the bank has signed a partnership agreement with Elin Enerji, one of Turkey's most important energy companies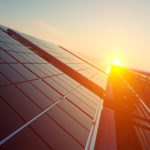 With this agreement, Garanti BBVA will offer special, personalized financing for investors taking stakes in solar energy and thus reducing Turkey's reliance on imported energy. Ünal Gökmen, Garanti BBVA Leasing's managing director, in expressing his confidence in the potential that can come out of the partnership with Elin Enerji said "it will make a significant contribution to the sector" and "and our joint investments will increase."
The Garanti BBVA executive reiterated that the company has been contributing to Turkey's leasing sector for thirty years. "We are working to deliver sustainable financing solutions to all our customers and to provide financing for renewable energy sources. To date, we have had numerous collaborations and will continue to sign these kinds of agreements, which are not just worthwhile but also vital for our country's economy," he explained.
We are working with the goal of creating sustainable financing solutions for all of our customers
Murat Karakeçili, an Elin Enerji board member, stressed that their company does not strive to be the biggest company; their objective is to be the best. "In this sense, our priority is quality and customer satisfaction. With this agreement, investors will be able to find quality products with affordable financing," he said. He also added that, thanks to the alliance with Garanti BBVA Leasing, they will offer a "safe and profitable alternative to investors."
Both companies' representatives agreed that these types of investments considerably reduce Turkey's reliance on energy imports, and thus significantly impact the country's economy.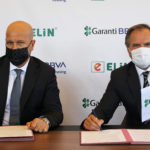 Ünal Gökmen, Garanti BBVA Leasing's managing director, and Murat Karakeçili, an Elin Enerji board member.