Garanti BBVA provides insight into Turkey's PPP market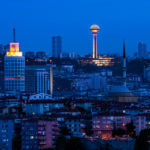 During his presentation, Garanti BBVA's director of Project & Acquisition Finance, Levent Kirazoğlu addressed the situation of the Turkish economy and the current climate around the project finance market. He also shared his forecasts for the PPP sector.
According to Kirazoğlu, the global economic environment for Turkey is favorable, but he advised that geopolitical risks and the global appetite for risk, which leans toward a potential decline, should be closely monitored. He added that Garanti BBVA's outlook for Turkey is more positive: the bank expects falling unemployment and single-digit inflation in base scenarios.
Kirazoğlu also took part in a panel covering transportation and infrastructure projects. Sharing lessons-learned from current projects, he stressed the need to use appropriate derivative instruments to manage exchange rate risk. He said that he could not overstress the importance of completing highly detailed preliminary studies and in-depth preparation work and allocating sufficient time for feasibility studies.
He also referenced two projects as examples — the third Bosphorus bridge and the North Marmara highway — to share ideas for facilitating financing. Such ideas include dividing large projects into smaller sub-projects; tendering each phase of a project separately; and combining difficult-to-finance projects with assets that currently generate cash flow, then tendering the package as a whole.