Garanti Bank's modernization drive has now put the fruits of the burgeoning digital world at the fingertips of customers at 500 of its branches just a year after its revolutionary service model was introduced. The transformation effort of its entire branch network, which is on track for completion by year's end, aims to allow one-stop, fast and easy access to a wide array of services.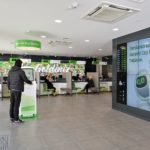 BBVA's Garanti has taken a pioneering role within the Turkish banking sector in the digitization of products and services. "We have always focused on making our customers' lives easier with our innovative product and service approach," Garanti Bank CEO Fuat Erbil said. "Today, 92 percent of the non-cash financial transactions in our bank take place are available through our digital channels, in line with the importance we place on digitization."
"As well as the digitization of products and services, the new model integrates digital into the branch service model"
The bank has also always been aware of the importance of extending the benefits of digitization throughout its branch network. "The strategic importance of the branches remains significant. In this context, together with the digitization of products and services, the new model integrates digital into the branch service model," Fuat Ebril says. "In doing so, Garanti is now leveraging its branches for the future."
The roll-out of the branch network revamp started in August and has continued apace at a rate of 10 to 15 branches a week. "We converted over 500 branches in a short span of time, and we have had the opportunity to provide our customers with an entirely seamless banking experience," Fuat Ebril said.
Apart from providing branch customers with enhanced user experience, the process has also entailed further upgrading the skills and expertise of Garanti teams to better serve them. The new service model aims to increase sales capacity by allowing employees more quality time with customers. Instead of signing loads of documents, customers can now complete transactions quickly and easily via corporate tablets available at customer representative desks at branches or by using their own mobile devices.
"The satisfaction customers get from any single point of service, and the growth in employee productivity evidence the success of this new service model," Garanti's CEO said. "We are extremely pleased to lead the Turkish banking sector with our new service model which has been a very important part of the digitization process."