Garanti helps to fight climate change with its growing portfolio of green and renewable investments
Garanti Bank presented its initiatives to combat climate change at the 10th Energy Efficiency Forum and Fair. The bank has increased both its portfolio of sustainable loan options and its financing of innovative projects aimed at supporting green and renewable investments.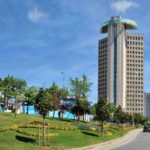 Discussing the bank's efforts to fight climate change, Garanti Bank Sustainability manager Derya Özet Yalgı said that the bank, together with partners, has implemented numerous innovative initiatives, diversifying financing solutions. Some of these examples include the green mortgage loan for energy efficient buildings; the Eco-Friendly Vehicle Loan aimed at financing electric and hybrid automobiles; green loans that tie interest and commission rates to sustainability performance; and leasing loans for resource efficiency and small scale renewable energy applications. Additionally, the bank has the Sustainability Stock Pension Investment fund, which is based on the sustainability index.
Garanti's Yalgi also outlined the environmental benefits of the bank's activities: "Investments in digital transformation help avoiding greenhouse gas emissions originating from the need to go to a branch to conduct transactions," she said.  Additionally, customers have participated in Garanti'sforestation program, which has resulted in the planting of 2.8 million trees across Turkey.
To date, Garanti has allocated $5.1 billion to financing for renewable energy. Every electricity generation project added to the bank's project financing portfolio since 2014 comprises renewable energy investments.  "With 28.1 percent of the market, we are leaders in wind energy projects. Solar, wind, and hydroelectric power plant projects financed by Garanti prevented 5.4 million tons of CO2 emissions in 2018, based on Turkey's current average grid emission factor," said Özet Yalgi.
Debt Financing
In 2017, as part of the Covered Bond (İTMK) Programme, Garanti Bank secured a 5-year $150 million loan from the International Finance Corporation (IFC), a member of the World Bank group. Although this bond was not the bank's first bond issued under the program, it was Garanti's first green bond, and it is the first time that the IFC has invested in a Covered Bond in Turkey.
This fund represents the first time the bank has worked with the IFC in Turkish lira, and it is being used largely to finance eco-friendly loans known as 'Green Mortgages' for buildings with high levels of energy efficiency.
In addition, a Green Mortgage for €75 million (313 million Turkish lira) was agreed with the European Bank for Reconstruction and Development (EBRD) in August 2017, and loans totaling 100 million Turkish lira had been used by the end of 2018. These Green Mortgage funds make up 46 percent of the financing provided by Garanti in the Mortgage-Backed Security market.
Garanti Leasing also signed a loan agreement with EBRD worth €50 million, which was provided as part of the third phase of the Turkish Sustainable Energy Financing Program (TurSEFF). Garanti will allocate this financing to support resource efficiency and small scale renewable energy investments. This is the first time that leasing institutions have been included in the program.
Green products
Garanti currently offers an extensive line of loan products available for customers and clients. Some of these include:
Green Mortgage: Since it was introduced in 2017 with the aim to encourage eco-friendly efficient buildings, financing provided by Garanti through the Green Mortgage product has reached $368 million Turkish lira by the end of 2018.
Hybrid Vehicles: In May 2017, Garanti Bank introduced its Eco-Friendly Vehicle Loan aimed at financing hybrid and electric automobiles that are energy efficient and environmentally friendly. The total amount of loans disbursed has reached 4.8 million Turkish lira by the end of 2018. Given international commitments and developments in this area, Garanti believes there is significant potential in this segment.
Green Loans: BBVA Group has become a world leader in the structuring of green loans that encourage its clients to adopt sustainable business models. In 2018, Garanti echoed the Group's commitment by signing a Green Loan Agreement, the first of its kind in Turkey (and fifth in the world), with Zorlu Energy as part of a $10 million corporate loan. Green loans are structured so that the interest rate is directly linked to the sustainability of the organization receiving the loan. Later in the year, Turkey's first Green Project Financing Loan was signed with Akfen Renewable Energy, with four domestic banks, and two foreign banks. On this deal, Garanti served as the 'facility agent' and 'green loan agent.'A total of $260 million loan was allocated to the project as green project finance loan, while the total investment cost is $350 million. The costs of the loan will thus vary depending on Akfen's annual sustainability performance.
Green Loans can be tied to a certain KPI such as improvements in energy efficiency, the company's sustainability performance, or compliance with the Green Loan Principles. The two green loans in which Garanti is involved contain these three types of different assessment criteria. The bank hopes its experience will serve as a model for the sector and its customers so that green loans become more widespread.