There was a sharp drop in investment in VC-backed companies in late 2015. According to the global quarterly report on VC trends published by KPMG International and CB Insights, investment in the fourth quarter of 2015 stood at 27.2 billion US dollars, with 1,742 deals at the global level –representing a 30% decline in funding. This was also the lowest quarterly level of deals to be registered since the final months of 2013.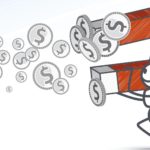 In spite of these data, 2015 was a landmark year: "128.5 billion dollars was invested in companies backed by VC (venture capital), up 44% over 2014 and an all-time high. Last year also saw an increase of 156% over 2013, with a total investment of 50.2 billion dollars", says KPMG in a communication.
Another of the data highlighted by the report is that "new VC-backed companies (startups)  raised 3 billion dollars in 338 deals".
Globally Europe was the continent most affected by the collapse. "Asia, in particular, showed a significant slowdown on a funding basis, falling 32% to 9.7 billion dollars on 346 deals versus Q3 2015. North America also slowed as funding fell 32% to 14.1 billion dollars on just 1,026 deals versus Q3 2015. Europe did not see the same slowdown, and funding fell just 11% from Q3 to Q4.
You can read the full report here.