Gloria Couceiro, new Head of Shareholder and Investor Relations at BBVA
BBVA appoints Gloria Couceiro as Head of Shareholder and Investor Relations, within the financial unit led by Jaime Sáenz de Tejada.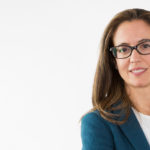 Gloria Couceiro (Madrid, February 1974) holds a degree in Economic and Business Sciences studies from ICADE, with a major in finance. Prior to the present appointment, and over the course of her almost two-decade long career at BBVA, she has held a number of positions of increasing responsibility.
Between January 2011 and December 2016 she was responsible for a range of functions within the Investor Relations team, including managing relations with variable income analysts – the analysts that monitor BBVA stocks – and drawing up the contents disclosed among investors, analysts and shareholders.
From 2007 to 2010 she was head of strategy and budgetary oversight within BBVA's Industrial and Financial Share unit. Between 2005 and 2007, as a member of the same unit, she managed BBVA's interests in the telecommunications industry, mainly in Telefónica. Between 1999 and 2005, she was part of BBVA Research's variable income analyst team, in the telecommunications and energy sectors. Gloria started her professional career in Arthur Andersen, as financial sector, taking part in a number of projects involving top financial institutions.