BBVA's Open Innovation unit is charged with ensuring the bank stays up to date with the latest fintech disruption happening anywhere in the world.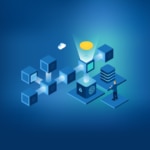 The team, headed by Ainhoa Campo, builds and works with an ecosystem of fast-growth companies who are focussed on changing financial services through the use of technology.
That technology can be used to deliver anything from better financial health for customers and clients - for example by using artificial technology to help people better manage their money - to risk management tools to help the bank deliver better results, and much much more.
But just as the technology being used to change banking is constantly evolving, so too does the way in which the bank partners with fintechs.
Gone are the days when banks just launched accelerators and incubators to help startups get off the ground. In fact further back, even that relationship didn't exist as banks initially saw fintechs as threats to be contained.
These days the relationship is deeper, far more collaborative, and designed to ultimately offer a triple win - for the customer or client, for the fintech and for the bank itself - as part of a cooperative ecosystem aimed at longer term sustainability.
Commenting on the changes, Campo said: "For the last year and a half we have focused on being closer to the bank."
"Open Innovation has been working for the past 10-years with the view to connecting with the ecosystem - but what we realised, and for a variety of reasons, is that we actually weren't close enough to the bank itself."
This, she added, was partly because a decade ago when Open Innovation really got going, the bank/fintech ecosystem didn't really exist. The two were competitors, interested in what each other were doing, but working effectively independently. Then, a few years ago the bank changed its approach and demanded that Open Innovation got closer to the fintechs, to build proper partnerships and change this culture towards more trust-based.
Campo says: "It was great timing, and a really necessary step. Programmes like Open Talent ensured we got to know some amazing startups doing incredible things, and kept us very close to the fintech ecosystem."
"Open Innovation got closer to the fintechs, to build proper partnerships and change this culture towards more trust-based"
"But, there were problems with it too. For example, the feedback we were receiving from the sector was that while competitions and a cash prize were useful, they weren't top of the list for what fintechs wanted. What they really wanted was business - business with us."
"However, that raised the second problem. Really, a lot of the fintechs we were meeting were still too young to work with us, still not developed enough to get through the compliance, legal and risk checks that a bank like BBVA must have in place."
She added that now Open Innovation takes a far more comprehensive approach to nurturing the ecosystem.
Open Talent still operates, but its approach is far more focussed around understanding the bank is the unit's client. So rather than simply seek out the best fintech around, the competition looks to solve specific challenges the bank has and that it wants help in solving from the fintech sector.
More than that, though, Open Talent connects startups with areas within the bank that can help their growth. Early stage businesses, for example, might benefit from working with the BBVA & Anthemis Venture Building Partnership, which can offer both seed funding and expertise like recruitment or strategy advice as they start to grow.
More advanced businesses could either work directly with BBVA's various business units - solving particular challenges the bank has. Or they could receive investment from the Propel Venture Partners fund that BBVA is invested in - and which last year invested into CharegAfter, the winner of BBVA Open Talent 2018.
Campo added: "Now we have developed a whole end to end service - and we go to find the best solution for both partners - fintech and bank."
For example, this year the BBVA Open Talent competition will be evolving again - more details to come shortly - however one of the main changes will be specific challenges the bank wants to work with fintechs to solve.
In each of BBVA's core countries, there will be a challenge set - things like personal finance management, regtech, insurtech - that has come directly from the bank's business units.
"We will also be looking increasingly for businesses that are building fintech tools focussed on sustainability"
The winners in each of the countries will get the chance to then work through a proof of concept programme with the bank to see how their solution could be used to support the bank and its customers - how the fintechs could get real business from the competition.
BBVA will then also support the Fintechs by helping them connect through events - like the yearly BBVA Open Summits run in Spain and Mexico, or though conferences like Open Talks in Madrid - with other businesses with whom it could work - again supporting demonstrable growth.
Also changing will be the BBVA Open Marketplace.
Previously an open site where BBVA Business units posted 'needs' they had and that they hoped fintechs could solve, and vice versa - fintechs posting their solutions. Now, the site will work more like a single point of entry for fast-growth businesses looking to work with the bank.
And, Open Innovation will also dedicate itself to supporting BBVA's six new strategic priorities.
Campo said: "We have always looked for businesses that support customers with their financial health - from AI powered chatbots to smart financial management tools."
"But we will also be looking increasingly for businesses that are building fintech tools focussed on sustainability - whether that is around helping individuals and companies be more environmentally friendly, or that link financial performance to tackling climate change, or whether their solutions help support sustainability in communities."
"We firmly believe that technology combined with banking can make a positive impact for wider society, and we are privileged to be able to connect and work with so many fast-growth entrepreneurs looking to do just that."