BBVA explored collaboration with over 300 startups in 2019
Over the past year, BBVA Open Innovation, the area of the bank that works to connect with the FinTech ecosystem, has generated 310 interactions between entrepreneurs and business areas. Thanks to these contact points, BBVA successfully carried out 16 pilot tests with startups in 2019 alone, one third of which are now in the marketing phase. In addition, a further 38 collaborative initiatives are in the process of being defined and implemented.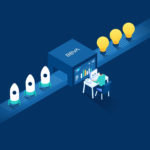 Much of this success has been possible thanks to initiatives such as Open Marketplace, which, after being up and running for just over a year, already has over 2000 startups registered and over 170 registered business units. The platform, which helps identify emerging financial technology companies that can collaborate with BBVA, has been a key tool in the search for new connections this year.
Another initiative that has made it possible to turn these contact points into tangible projects has been Fast Track, a program designed to facilitate work between the startups identified in the ecosystem and the business units. This year, seven pilot tests have been carried out thanks to this program, which has held 13 editions with the participation of five countries. These tests involved over 17 business areas of the bank and 45 startups.
"In order to keep pace with the fourth industrial revolution and be sustainable over time, it is essential that we support startups in the countries where we are present," remarks Ainhoa Campo, Global Head of BBVA Open Innovation. She explains that, in order to achieve its objectives, in 2019 the area has continued to wager on the three central pillars of its activity: generating impact on the bank's business, supporting local entrepreneurship, and being in contact with the most innovative fintech ecosystems.
This year's achievements are added to the long list of milestones that the BBVA Open Innovation team has reached since it was formed in 2016. During these years, thanks to an in-depth market analysis—with more than 3000 companies evaluated to date—it has successfully generated a total of 537 interactions with startups and launched 68 different pilot tests, 24 of which have successfully entered the commercial phase for implementation in the bank. In this way, BBVA Open Innovation has been establishing deep connections with entrepreneurs around the world.
A New Program and the Birth of a Startup
This year, BBVA has also continued to identify potential partners and support local ecosystems through other programs such as the Open Talent competition, which saw submissions from more than 750 companies from over 90 countries in 2019. This is in addition to the activity of its Open Spaces, where the entrepreneurial ecosystem and bank employees share ideas, strategies, and knowledge.
In the case of Madrid Open Space, 2019 has been a particularly busy year: in September, the new BBVA Open Innovation Acceleration Program began at this site and is now providing personalized training and advice to 13 new companies.
Another of this year's outstanding achievements has been the creation of the startup known as Lucas. The company, which offers a platform to help users buy homes, is the result of the collaboration of several entrepreneurs who work and live together in the Madrid Open Space and was named as one of the 12 most influential businesses at the Money 20/20 Europe conference.
Following this success, BBVA Open Innovation has finished the year in the best possible way: with the inauguration of Open Space Bogotá which aims to generate impact in the Colombian FinTech community. Along with those in Madrid and Mexico City, the Open Space in Bogotá means that BBVA now has three spaces of this kind.
BBVA has also held 20 Open Talks events in nine different countries throughout the year, attended by over 2000 participants and more than 200 speakers, who discussed topics such as digital transformation, open banking, blockchain, digital payments and data, among others.