Startups multiply in the form of mobile apps as a digital platform, market place, etc. But is there always a personal project behind  startups? Sometimes they do, sometime they don't. Some time ago company builders came about, companies that provide vital support and all the necessary resources to develop new startups.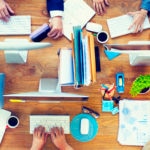 Antai Adventure Builder Builder is one of these company builders these company builders and it attended the Entrepreneurs Day held at BBVA Innovation Center in Madrid, explaining how it works.
Marc Jordana, Partner & Business Development Manager at Antai Venture Builder, pointed out that "we identify digital business models that could be rather disruptive, we set them up and put them on the market. To do so, we look for an entrepreneurial team that helps us to execute these projects, which is the opposite to an accelerator".
Specifically, Antai Venture Builder is behind one of the most successful Spanish startups , Wallapop, la famous app for buying and selling second hand products, which Marc Jordana noted "is behind the most used 20 apps in Spain, since 40% of smartphones have Wallapop installed.
Marc Jordana then explained a series of considerations for generating a good startup: - Disruption. They have to be projects that change the status quo of an industry.
- Do a good preliminary analysis, preparing a spreadsheet on which we list the possible scenarios we could come across.
- Speed vs. perfection. A balance must be found between a project that is done quickly and one that is done well.
- Marketing is not a drug, i.e., it's not just about getting the highest number of downloads, but reaching our target, people who are actually going to use our services.
- Listening to KPIs (Key Performance Indicator), numbers never lie and we must be guided by them.
- Team = 90% of the success. The team is practically everything, and we must be committed to quality and talent and dimension its functions.
- Investment at any price? No, we have to look for investors who are in line with the idea of the project.
- Pivot in time. If there are things that don't work, change course and carry on.
- Consciousness and consequence, i.e. it's important to know how to adapt the team to the project. If we have a project that needs to be launched very quickly, we look for people who know how to work like that.
Marc Jordana concluded: "we are not an accelerator, we initially finance our projects, but then, like any other entrepreneur, we are also backed by external investors".
You can see the entire event here.