BBVA, among Europe's most collaborative corporations with startups
For second year in a row, the European Commission has recognized BBVA as one of the 36 corporates that are doing more to collaborate with technological startups.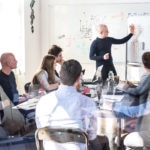 For second consecutive year, BBVA earned a star from the European Commission as one of the leading corporations for its partnership efforts with the startup ecosystem. In its 'Open Innovation in Europe' report of the Corporate-Startup Collaboration — prepared by Startup Europe Partnership – the bank is included in a list of 36 corporates in the ranking of companies that engage with innovative startups.
BBVA also earned the Corporate Startup Acquisition Award for its startup investments and acquisition strategy. "A noteworthy trend in these last few years has been the rise of open innovation, and, particularly, collaboration with startups," says Alberto Onetti in the report, Chairman of Mind the bridge, the organization based in Silicon Valley and Europe that is leading the Startup Europe Partnership program. "When done well, this provides a roadmap for young companies to upscale and means for larger companies to innovate."
There are several figures that stand out in the analysis of these 36 companies leading the corporate-startup hybridation. The first one is that the leading sector is finance. Eight of the 36 companies  inclued in the ranking are financial institutions, ahead of sectors such as information technologies, telcos or energy.
Another one of the trends, is that experience is an asset here. The report underscores the companies more likely to merge or collaborate with innovative players are in average 37 years old. Six of them are more than 100 years old, including BBVA.
Another one of the trends noted in this 52-page report is that most of these corporations have their own innovation units (89 percent), are European (78 percent), invest in European startups (78 percent) and are focused on a global business (86 percent).
This last alternative, in which BBVA has been recognized, is one of the least popular among corporations: less than one out of every three corporations choose it (28 percent) and the study considers it to be absolutely pivotal. In fact, it is singled out among the list of trends concluded in the report: "Our analysis proves once again that EU corporations are not very likely to buy companies, compared to their US counterparts. More M&A seems likely and will be beneficial." A warning that leaves the door open to improving this key parameter for Europe's innovation health.
The study also provides a clear outline of how corporates and startups engage. According to the report, there are six broad categories: Exposure (i.e. organizing one-off events such as hackathons and sponsorships of coworking spaces); Trend Detetctor (with permanent presence in large tech hubs: Israel, Silicon Valley…); accelerators; procurement and sharing the development of the project at stake; inventments; and acquisitions.