BBVA's state-of-the-art data processing centers (DPCs) hold the most prestigious certifications in the world in terms of design, construction and operational sustainability. This ensures that the Group's operations are maintained in the face of possible contingencies, offering the best service to its customers under virtually any circumstances.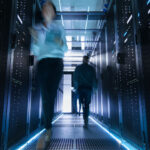 The BBVA Group's new backup DPC at the corporate headquarters in Ciudad BBVA, which replaces the DPC facilities in Vaguada, has obtained Tier III certification in design and construction for the Horus, Mer and Core rooms by the Uptime Institute.
This recognition is a major milestone in the design of the facilities, which incorporate the latest in security: with two levels of redundancy to guarantee uninterrupted operation; a self-generation energy system, which provides autonomy; or cooling systems, which guarantee air conditioning in case of emergency. It is also energy efficient, taking advantage of the outside air in the cold months to pre-cool the water in the refrigeration equipment or the heat from the operation of the equipment, which is reused for heating.
These features allow us to react appropriately to setbacks in the operation of the facilities, thus maintaining the Group's operations and providing the best possible service to customers.
Several years ago, BBVA decided to build a network of state-of-the-art data processing centers to anticipate regulatory changes, increase security and guarantee the Group's future growth, as well as to respond to technological challenges and be at the forefront of the sector.
And it has successfully achieved its goal. Its main DPCs in Europe, America and Asia have earned Tier IV Gold certification in design, construction and operational sustainability: in 2016 BBVA became Europe's first bank to earn Tier IV Gold certification for its Data Processing Center in Tres Cantos, Madrid. In 2018, its Lago Esmeralda DPC in Mexico became the first data center in Latin America to earn the same certification; and this year, Garanti BBVA's DPC in Turkey also received the Tier IV Gold certification.
Now in a new strategic stage, the bank is focusing on upgrading all its backup data centers in Europe and America, ensuring they comply with the same quality protocols and robustness and resilience standards.
Tier Certification
For Óscar Moreno González, Head of Data Center Strategy in Infrastructures and IT Operations at BBVA, "this type of certifications provide organizations with an added value and clients with a significant level of intangible reassurance, since they translate into an upgrade of all operating systems, enhanced security levels, increased system resilience and a 99.98 percent boost in data processing center availability."
The Tier IV seal is one of the world's most prestigious and recognized certifications in terms of service, safety, redundancy and maintenance of the operation. This certification, granted by the Uptime Institute, ensures that the CPDs have been built observing applicable Tier regulations and standards with a view to preventing service interruption in IT infrastructures, as well as ensuring that they are adequately staffed and provided with a catalog of procedures to ensure proper response against any eventuality affecting facility operation.
Las certificaciones Tier tienen distintos grados (Tier I, Tier II, Tier III y Tier IV) en torno a tres categorías:
Design Documents. The design meets all requirements..
Constructed Facility. The infrastructure complies with the design.
Operational Sustainability. Maintenance and operations activities are carried out in the most appropriate way.
There are several levels in each category: bronze, valid for one year; silver, valid for two and gold, valid for three.