BBVA has achieved a critical milestone in its drive towards digital banking after passing the 50 percent mobile banking tipping point for customers. The news means more than half of BBVA's active customers worldwide now engage with the bank via mobile devices, and through mobile channels like its world-leading mobile banking app.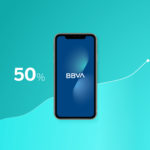 BBVA Group smashed through the 50 percent mark during October 2019 - with, 28.1 million now using mobile devices like smartphones and tablets to connect with the business. The bank signposted it was going to hit this target in 2019, once it had passed the 50 percent digital tipping point, meaning more than half its customers now used digital channels to connect with it.
The clear leaders for mobile adoption across BBVA's footprint were Garanti BBVA in Turkey, where already 66.1 percent of customers use mobile to access their banking and financial advisory services with the bank. Spain, BBVA's home market, is also well past the tipping point, with 56.4 percent of customers using BBVA's mobile banking app - named by Forrester as the world's best for three years in a row.
There are similar stories across America, with the U.S. at 51.9 percent and Argentina at 51.3 percent.
Growth is also expected to continue in countries where the tipping point has not been crossed, with most likely to reach the 50 percent threshold in 2020. For example in Mexico, where the figure stands at more than 42 percent, the growth rate is in excess of 10 percent a year.
Usage patterns in Spain
With this latest news, the bank also unveiled new statistics around usage patterns in Spain, with clear peaks being seen in traffic to the mobile app on Monday mornings at around 9am and Wednesday mornings too. Money transfers were most frequent on Tuesday mornings between 8am and midday, although three out of ten happened during the evenings when branches were closed.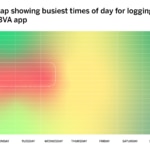 Interestingly, what also emerged from the analysis was that almost 50 percent of the app visits came between the hours of 3pm and 8am, showing the value customers place on being able to bank when it suits them.
Commenting, BBVA Global Head of Client Solutions, David Puente, said: "BBVA's focus on developing our mobile banking services has always been driven by what we are seeing in terms of customer behaviour. "The branch network is crucial to our business, but increasingly so too is ensuring people can access their financial lives on the go - as it allows us to be there for the customer when it best suits them."
"In fact, what we are seeing now is that, arguably, our deepest relationships with customers are those that use the mobile app to conduct their day to day financial business, and then human to human - physically or remotely - advice on the most important decisions they have to make."
Another statistic of note related to instant multi-bank transfer service Bizum, with peaks in usage clearly seen on Friday nights - between 9pm and 11pm - suggesting its value to restaurant goers looking to split bills.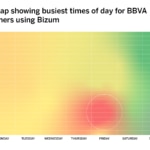 BBVA's focus on mobile has been growing in importance for more than 9 years now, since the bank launched its first mobile banking services in 2011. For the past three years in a row BBVA has also been named by independent analysts Forrester as having the world's best mobile banking app, with the bank's Turkish business - Garanti BBVA - coming second in 2019 and 2018.
The bank's mobile app now has more than 1.4 billion page views each month with the highest number of views coming from Turkey, Spain and Argentina. Mobile app visits are now also three times higher than web account accesses, with interestingly, web visits and ATM transactions - including cash withdrawals - now roughly the same.