BBVA in Colombia redesigned its smartphone app. From now on, the app will feature a new interface, run faster, offer more security and provide new functionalities. This marks the launch in Colombia of BBVA's global mobile banking app, which is already active in Spain, Mexico, Peru and Argentina, among other countries. Today, more than 1.7 million Colombian users are using the new version of the app on their smartphones.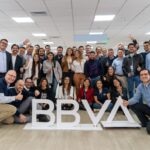 From now on BBVA customers can access a redesigned app that will provide state-of-the-art technology developed by BBVA, with a focus on speed, security and enhanced financial operability.
"Today we're bringing to Colombia the cutting-edge technology of the BBVA Group, recognized for several years as the best banking app in in Europe and the world. The update of our mobile banking app shows how globality is integrated into our digitalization process and enables us to place the best solutions in the hands of our customers. Globalization lets us offer our customers a much faster and more secure app," said Mario Pardo Bayona, the country manager of BBVA in Colombia.
BBVA's new app in Colombia provides security tools such as fingerprint and facial recognition biometrics. In addition, customers can access all their current financial products in a single place and, at the same time, sign up for new ones.
Users can also easily and quickly transfer money, open new portfolios such as investment funds, make transactions between BBVA accounts and other banks quickly and at no cost, organize their monthly budgets and expenses, and make money transfers using just their cell phone number.
At the end of 2022, BBVA in Colombia had 1.6 million digital customers who were frequent users of the mobile banking app. This figure has been increasing, to the point that digital sales grew more than 70 percent in the last year and now total $1.15 billion. More than 50 percent of the bank's transactions are now made through digital channels.
In addition, more than 130,000 people have accessed an online account via the digital solutions provided by the bank.
BBVA also upgraded its mobile app for companies in 2022. Among other functionalities, BBVA added a payment link for retail establishments, which was recognized by the international publication Global Finance as the best innovation in Latin America for SMEs and entrepreneurs.
Gregorio Blanco, Vice President of Engineering at BBVA in Colombia, closed with "The app is now available on all platforms for IOS and Android and to date we have more than 1.7 million users who are users of the new tool. This 'app' is undoubtedly faster and more secure and will be the perfect tool for our customers to manage their financial transactions without having to physically go to a branch office."