Carlos Torres Vila: "The opportunities for both the bank and our customers are in the digital world"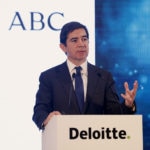 During his participation in the event, Carlos Torres Vila explained that BBVA is making the most of the digital world's benefits as demonstrated by the Group's new global development platform, which was presented last week.
BBVA's CEO stressed that developing solutions at global scale -a methodology widely used among big tech companies- provides efficiency by reutilizing different components. These developments also foster modularity (allowing the global product to include local particularities) and make it possible to unify user experience in all countries with a single design and navigation logic. Global developments can help reduce by half the time to market for new solutions, with savings of about 40 percent per project, he added.
Carlos Torres Vila stated that the BBVA app, which was launched just days ago in Mexico, is the first example of the Group's global solutions. The BBVA app will soon be introduced in Peru and will be rolled out progressively across the Group's footprint.
"Digitization, DIY solutions, and ongoing user experience improvements continue to support our transformation and have a significant impact on our business' results," he asserted.
According to the CEO, the growing digitization of customers is already yielding tangible results as shown by 2018's Q1 numbers. At the close of March, BBVA already had 24 million digital customers and 19.3 million mobile customers, representing growth of 25% and 43%, respectively, from a year ago. He added that the objective is to have a 50% digital customer base by the end of 2018, and 50% mobile by the end of 2019. These positive numbers have also driven digital sales, which represented 37% of all units sold in Q1-18, almost triple from only two years ago.
To conclude, Carlos Torres Vila reiterated that BBVA is engaged in transforming its value proposition in order to much more significantly support its customers in their personal and business lives. "Financial management causes people a lot of stress, so our role is to anticipate their problems, simplify the management of their finances, and help them achieve their personal and business goals," he said.
Carlos Torres Vila explained that the considerable number of solutions "in our customers' hands" has allowed BBVA to have customers who do more business with the bank and are willing to interact more with the bank via digital channels. In fact, between March 2016 and March of this year, mobile interactions have doubled, which "helps us have a better dialogue with our customers" he stated.