Carlos Torres Vila encourages South Summit entrepreneurs to innovate in green technologies
BBVA's Chairman called on the entrepreneurial community to "continue to be brave and invest in green technologies" during his participation in the South Summit, where he stressed the need to continue supporting innovation, especially in the field of digitization and sustainability. "We need to decarbonize in 50 years, and that is going to require a lot of investment and innovation in technologies that do not exist today," insisted the BBVA Chairman at this conference dedicated to startups and whose opening ceremony was presided over by His Majesty the King.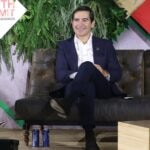 Carlos Torres Vila spoke of the fight against climate change as one of the greatest disruptions in history, requiring a collective effort from everyone: consumers, governments, researchers, investors and companies from all sectors. But in the eyes of BBVA's Chairman, this colossal challenge also presents a great opportunity.
In this sense, BBVA has already taken important steps towards its goal of playing a relevant role in this transition towards a more sustainable and inclusive world. Since 2018, BBVA has mobilized more than €67 billion in sustainable financing, which is part of its commitment to channel up to €200 billion by 2025 in projects that help fight climate change or drive inclusive growth.
This figure reflects just some of the demanding targets set by the bank, which, for example, has already been CO2 neutral since last year. "But we can go beyond that. Banks are middlemen and we can be a catalyst to help our clients achieve their goals. We want to bring the age of opportunity to everyone and have made sustainability a top priority, along with improving the financial health of our customers," said Torres Vila. In this regard, he recalled that BBVA has recently launched loans linked to energy efficiency and for the financing of hybrid and electric cars, advisory services for companies or the new carbon footprint calculation tool that has just been integrated into the BBVA app.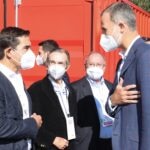 Furthermore, according to the BBVA Chairman, to make progress in the challenge of sustainability, developing countries must be involved. "To get a well functioning carbon market we need it to be as global as possible to have scale," said Torres Vila, who believes it is essential for rich countries to help developing countries, who lack conviction and resources, to fight climate change. On this point, Torres Vila noted that the commitment made at the Copenhagen climate summit in 2009 to mobilize 100 billion dollars a year in developing countries by 2020 has not been fulfilled, and that this figure was already less than the amount really needed to promote sustainability plans and infrastructures in these geographies.
In the conclusion, Carlos Torres Vila, who shared a panel with Sebastian Siemiatkowski, founder of Klarna, the fintech specialized in payment solutions, spoke about the future of the financial industry and how it will be directly impacted by technologies such as blockchain, 3D printing or artificial intelligence, as well as the rest of the sectors. Likewise, both panelists stressed the importance of all industries allowing their customers' data to be shared, with their consent, as is being done in open banking: "We need to open data, because there is so much value in data being shared," explained the BBVA Chairman, who believes that if all industries really shared their data, it would favor competition and, especially, customers. Torres Vila concluded by recalling how BBVA has made data and technology one of the levers to "help people and businesses make better decisions to achieve their goals and make the transition to a more sustainable future."