Carlos Torres Vila: "The quality of BBVA's franchises allows us to advance successfully in our transformation"
BBVA CEO Carlos Torres Vila told international investors this Friday that "the quality of BBVA's franchises, in strategic markets, provides resilience and contributes to the strong performance of our results." He also believes that banks have some unfinished business: having a positive impact on peoples' lives and businesses. BBVA is working on it.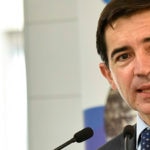 The presentation of BBVA's CEO at the Goldman Sachs Twenty-First Annual European Financials Conference, held in Madrid on Friday, was divided into three parts. In the first, he reviewed BBVA's strengths, underscoring the quality of the bank's franchises. He then commented on the Group's strategy based on the idea that banking services should focus on having a positive impact on people's lives. Finally, he described how the bank had successfully executed its transformation plan.
Carlos Torres Vila began his presentation by putting into context the Group's strengths that have enabled the resilience and stability of the bank's results. The CEO indicated that BBVA has high quality franchises in strategic markets where it holds a leading position. He also touched on the bank's strategy in its main locations and the drivers of growth in the short-medium term.
In the second part of his presentation, Carlos Torres Vila recognized the value of BBVA's "winning" strategy. In the current context, new technologies are enabling things that were unimaginable and the financial sector has a job to do: to go from being infrastructure providers to having a positive impact on people's lives and businesses. For the CEO, this is where BBVA's strategy takes on real meaning, through its purpose: to bring the age of opportunity to everyone.
New technologies are enabling things that were unimaginable
The final part of his speech described how BBVA has made progress in its strategy through six priorities. In terms of customer experience, Carlos Torres Vila stressed that BBVA is a leader in customer satisfaction (net promoter score - NPS) in seven of the eleven main locations where the bank operates, and across all channels in Spain.
He also emphasized the substantial increase in the number of digital customers, which grew 20% over the past year, reaching 19.3 million in March 2017. Of this amount, 13.5 use cell phones as their main channel to engage with the bank – 41% more than last year.  Digital sales represent 21.1% of all sales so far this year.
In terms of new business models, Carlos Torres Vila noted that BBVA is collaborating with the innovation ecosystem with two goals in mind: enhancing the value proposition for customers (transformation) and offering new business models to non-customers (disruption).
The fourth priority focuses on growth with adequate profitability above the cost of capital. In this regard, BBVA's CEO made reference to the Group's solid capital ratios and the quality of its capital.
Carlos Torres Vila underscored the BBVA Group's leading efficiency ratio (49.1% in March 2017). To achieve this, it is leveraging technology to transform the bank's productivity model.
Finally, BBVA's CEO described the transformation in which the bank is immersed. He mentioned new ways of working, open spaces, multidisciplinary teams, developing internal talent, and incorporating people with new skills.