CIBBVA hosts the first international Boot Camp of 007ideas for entrepreneurs
Created by and for entrepreneurs, the 007ideas venture builder is hosting its first international Boot Camp at BBVA's Innovation Center in Madrid on September 12, 13 and 14.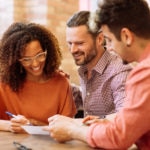 Held from September 12-14 at CIBBVA in Madrid, the first international Boot Camp is looking for the "next generation of entrepreneurs."
As you can read in their blog, "007ideas is an international venture builder that helps entrepreneurs succeed in making the world a better place. At 007ideas, we are looking for entrepreneurs with inspiring, innovative or disruptive ideas that can be converted into viable companies. We analyze the idea and help entrepreneurs at all levels, and launch or relaunch their business by assessing their market potential and investing in their enterprise."
The event also includes a "007pitches" competition where the participating startups (less than two years old) will make a three-minute presentation of their project to a panel of experts. 007ideas is looking for the 30 best projects that will lead the future of entrepreneurship in Europe.
The event is jointly organized in Spain, Ireland and Croatia.