Derek White: BBVA Colombia is doing a great job at becoming a truly digital company
The global head of Customer Solutions (CS) closed BBVA Colombia's quarterly planning meeting in an 'All Hands' session with 300 participants representing all areas of the bank. The message is clear: the transformation is accelerating.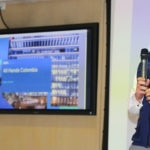 Derek White congratulated the Colombian teams for their capacity to create 'amazing', with "brilliant achievements", and he stressed the positive results seen in the digital transformation. "They are creating really amazing things and doing a great job at becoming a truly digital company," he said.
"The economy (in Colombia) is great, the health and core of the business is very good, which means we can continue to invest in growth. From a digital evolution of the business, we have done a very good job of looking at how we serve our customers and making services available that they would go to the branch in the past." Now those features are available both on the mobile and on the web, he added.
In front of an audience of 300 colleagues from across all areas of BBVA in Colombia, White said BBVA Colombia is an example of how global capabilities can be applied successfully at a local level and highlighted initiatives like 'Vivienda Online' and 'Commerce 360'.
White thus underscored BBVA Colombia's positive positioning in a society where cash plays such an important role in the daily life of the people and praised the bank's successful campaign known as "Uga Uga." It is critical to "migrate thinking towards digital" because that is how we will convey that "we are not just a bank, we're a digital company," he commented.
Regarding BBVA Colombia's strengths, the global head of CS underscored the way in which it had become an agile organization where all teams work together to develop and deliver the best solutions for customers. "BBVA Colombia has an execution rate of 82%, an impressive figure that confirms the strength of their creative engine."
The economy (in Colombia) is great, the health and core of the business is very good, which means we can continue to invest in growth"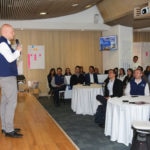 In front of an audience of more than 300 colleagues Derek White said that BBVA Colombia is doing a great job to turn the bank into a truly digital company.
New objectives
During his presentation, White confirmed that BBVA had put its focus on DIY solutions. He recalled that only two years ago 66% of the Group's products and services were available digitally. This number has grown to 84% globally. "In 2017 alone, we launched 812 products, services, improvements in design, UX, etc," he added.
White invited the Colombian teams to strengthen what are called the "Digital Basics," in other words to aspire to provide customers with 100% DIY or self-service products or services, where the client can interact with the bank completely autonomously — where, when and how they want — using the web or mobile devices.
In regard to the Colombian ecosystem of local startups, which consists of some 400 companies, White reiterated that this segment "is not just the third most important of the region, but also at BBVA we are working directly with them and we've developed some proof of concepts and have even entered into some joint agreements." he said.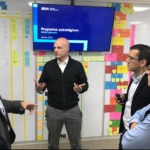 Derek White gets details about the strategic projects being developed by BBVA Colombia.
Rapid development
Asked about BBVA's digital transformation progress, the global head of CS explained that BBVA's way of working enabled it to create a unique model. He pointed out that BBVA has been delivering quarterly plans for fifteen quarters, a process that has extended across all countries and that identifies priorities and organizes the highly valued human capital in which "we invest in order to create the future of the bank." All these priorities are aligned to deliver speed of replication in each country and create a pace unmatched by any bank in the world and that is a great competitive advantage, he asserted.
The meeting participants were also interested to know about customer data and the impact on user confidence after the recent Facebook impasse. White recalled the words he used in Singapore, that banks like BBVA could pose a risk to technology giants. How? Positioning ourselves as the safeguards of our customers data thanks to a significant advantage: trust.
He emphasized that the importance of so-called "big data" lies in our ability to create intelligent interactions and make the most out of the data for the benefit of our customers, helping them with better products and services. "We have the great benefit of having been an industry and an institution that is regulated. We understand the importance and the sacred nature of our customers' data.  We protect that, that's in our core, in our DNA," he explained.