Ecommerce: keys to compete in a digital ecosystem
Remote commerce has grown exponentially in recent years, a trend that has been driven by the pandemic. During lockdowns, ecommerce skyrocketed and payments via apps and cell phones grew at a dizzying rate. On top of this, new technologies were already favoring the emergence of new, more convenient payment methods and boosting e-commerce.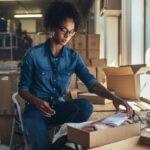 In Europe these new trends are supported by the second version of the Payment Services Directive (PSD2), in force since September 2019 although the implementation of some of its parts did not take place until January 2021. This regulation has three main objectives: increase the security of payments in Europe, boost competition and innovation in the sector and improve consumer protection.
The customer at the heart of the decision making process
In the coming years, ecommerce is expected to continue to grow rapidly and customer loyalty will be increasingly important, as it will be what makes the difference between a consumer choosing one brand or another in an increasingly competitive environment. To achieve this engagement, retailers will have to adapt to market trends:
1. Omnichanneling and creating similar experiences offline and online. More and more consumers are demanding the ability to shop and pay wherever and whenever they want: having the flexibility to purchase and return items across multiple channels means that retailers need to become a truly unified business by putting customers at the center of their strategy.
2. Convenience. Having several payment methods offers a number of advantages, such as higher sales conversion, customer loyalty and increased repeat purchases. It is important that these payments comply with certain characteristics:
They must be user-friendly and provide transaction security.
They should include the possibility to pay via bank account. Thanks to Open Banking, it is becoming increasingly common to offer payment initiation services that allow payments to be made directly from the account. In this sense, the ECB estimates that in 2030 payments via bank transfer in Europe will account for 60% of the total in ecommerce.
They should be able to be executed in real time and/or provide real-time response (PISP or Immediate Payments by Bank Account, Bizum, QR-based Wallets, etc.). Different European institutions are increasingly promoting the use of instant payments. Not only because of their obvious advantages of speed of execution and 24/7 availability, but also because combined with other value-added services (e.g. 'Request to Pay') they can support increasingly innovative business models.
They should be flexible and allow companies and individuals to be more involved in their collections and payments, thus replacing other traditional payment methods such as debit, deposit or transfer to adapt to the new business models that are constantly emerging.
3. Preference for marketplaces. Thanks to this model, customers can make use of an unlimited offering, available at any time and with various payment alternatives. Moreover, it is the fastest and easiest way for a business to start selling on the Internet.
4. Security. Strong Customer Authentication (SCA) introduced by PSD2 has been a game changer in the remote payment user experience: while it had a positive impact on payment security in 2021, it has generated more friction during the payment process and conversion rates for many merchants were substantially reduced. In the coming years, merchants will have to strike a balance between security and customer experience to optimize conversion rates. To achieve this, the support provided by payment service providers will be critical.
5. Buy Now Pay Later (BNPL). This system allows consumers to defer the payment of their purchases without additional costs. According to data obtained by Worldpay, by 2023 these payments are expected to represent 9% of ecommerce spending in EMEA.
The payments ecosystem is changing rapidly, and digitization and innovation have substantially accelerated. More and more of us are participating in the market by offering innovative and more secure payment solutions. At the same time there is a clear shift in consumer preferences and expectations. We will continue to see substantial changes in the coming years and adapting to these new trends will be imperative.